London's Hidden Gems
London, a city teeming with history, elegance, and modernity, welcomes travellers from all walks of life and budgets. As one of the world's most visited cities, London offers a unique blend of ancient landmarks and cutting-edge culture that sets it apart from other destinations.
A Rich Heritage: With roots stretching back over two millennia, London's history is palpable in its cobbled streets, grand palaces, and venerable museums. From the Tower of London's medieval past to the neo-Gothic splendor of Westminster Abbey, the city's historical sites invite visitors to step back in time.
Diverse Attractions: Whether you're an art lover drawn to the Tate Modern or a shopper ready to explore the chic boutiques of Bond Street, London's multifaceted attractions cater to every taste and interest. Food enthusiasts can indulge in gourmet experiences at Borough Market, while fans of street art will find inspiration in the vivid murals of Leake Street, also known as the Banksy Tunnel.
Accessible to All Budgets: What makes London truly special is its accessibility. Luxury hotels and Michelin-starred restaurants may dot the city, but so do affordable hostels, free museums, and bustling street markets. Whether you're a seasoned globetrotter or a first-time traveler, London offers a rich experience without breaking the bank.
Embrace the Experience: As you wander through the city's diverse neighborhoods, from the lively atmosphere of Camden Market to the serene gardens of Sky Garden, you'll discover that London is not just a destination—it's an experience. An experience that's enriched by its cultural blend, innovative spirit, and the echoes of history that resonate in every corner.
Prepare for a Journey: In this guide, we'll explore some of London's Hidden Gems, covering a mix of well-known landmarks and hidden gems. Whether you're planning a short getaway or an extended stay, we've tailored this guide to help you make the most of your trip, irrespective of your budget.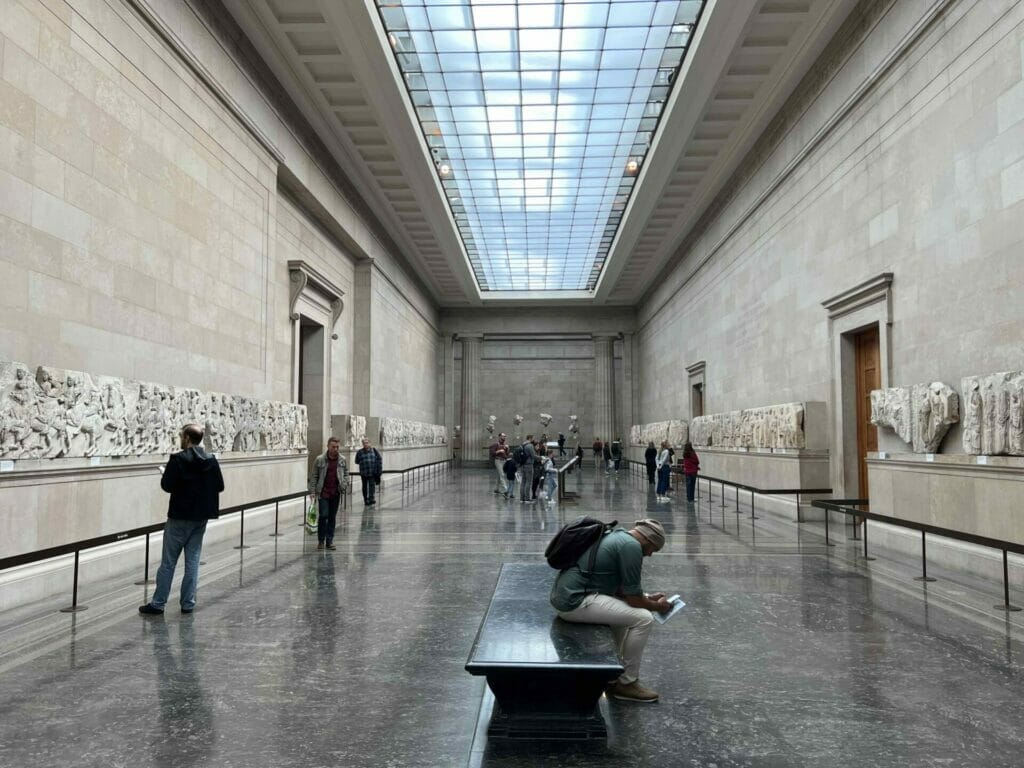 London Historical Sites
London's history is as diverse as its landscape, providing a glimpse into centuries of cultural evolution. Here are some of the city's most iconic historical sites that reflect its rich past:
The British Museum
Housing over eight million artifacts, the British Museum is a treasure trove of human history and culture. The Rosetta Stone, the Elgin Marbles, and the Egyptian mummies are among the highlights. Don't miss the Great Court, the largest covered square in Europe, and consider joining one of the daily free guided tours. With free entry, it's a must-visit for history enthusiasts of all ages.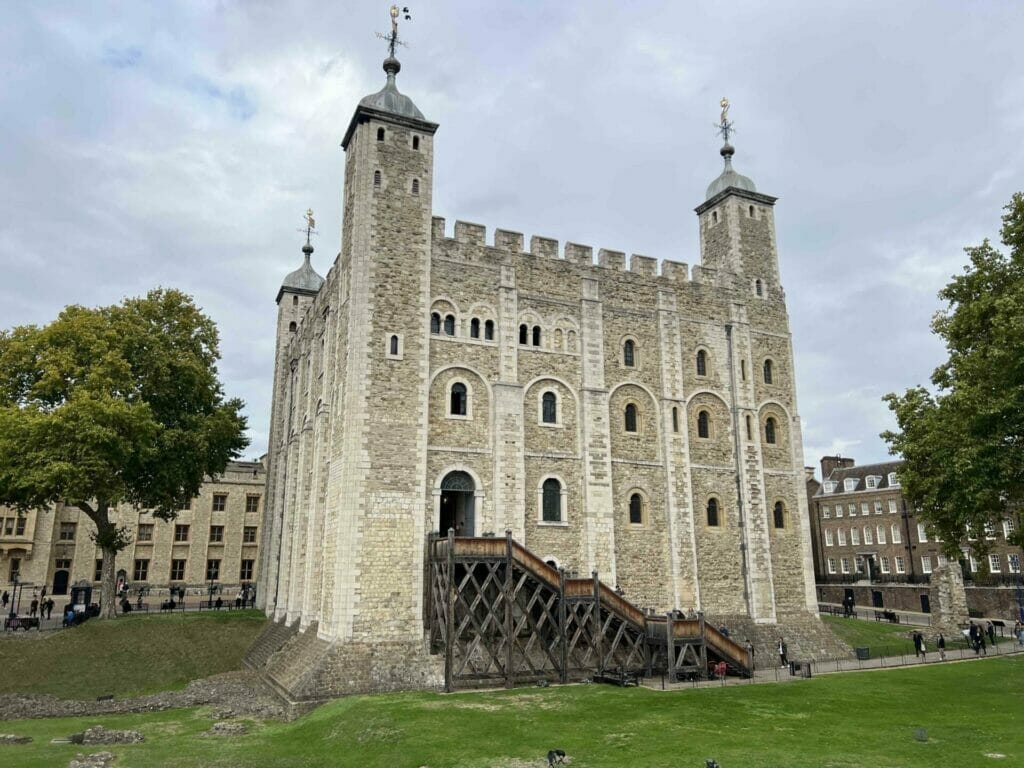 The Tower of London
A symbol of royal power and authority, the Tower of London has been a palace, prison, and treasury. The White Tower, dating back to 1078, stands as a testament to Norman architecture. Don't miss the Crown Jewels exhibition and the engaging Yeoman Warder tours. Tip: Buy tickets online to avoid long queues.
St. Paul's Cathedral
An architectural marvel designed by Sir Christopher Wren, St. Paul's Cathedral boasts a breathtaking dome and intricate mosaics. Climb to the Whispering Gallery for a unique acoustic experience, or go higher for panoramic city views. The crypt hosts memorials to British heroes, including Lord Nelson and the Duke of Wellington.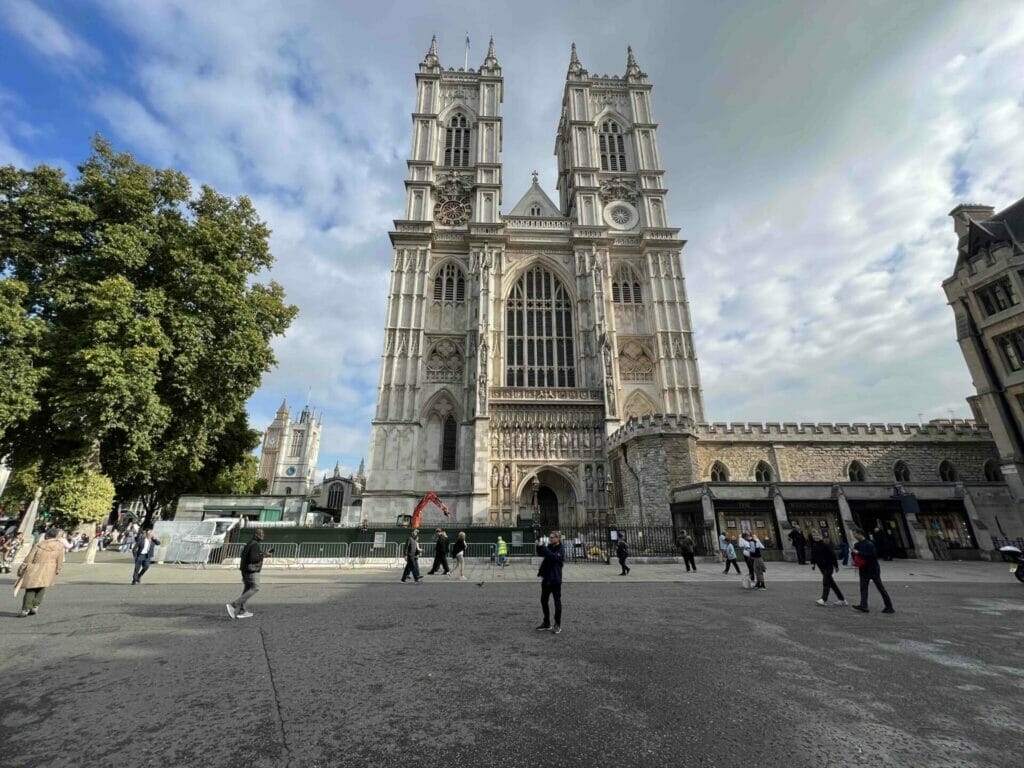 Westminster Abbey
A fusion of Gothic architecture and royal tradition, Westminster Abbey has been the setting for every Coronation since 1066. Explore the Poets' Corner, honoring literary greats, and the stunning medieval Lady Chapel. The Abbey also offers a free children's trail, making it a family-friendly attraction.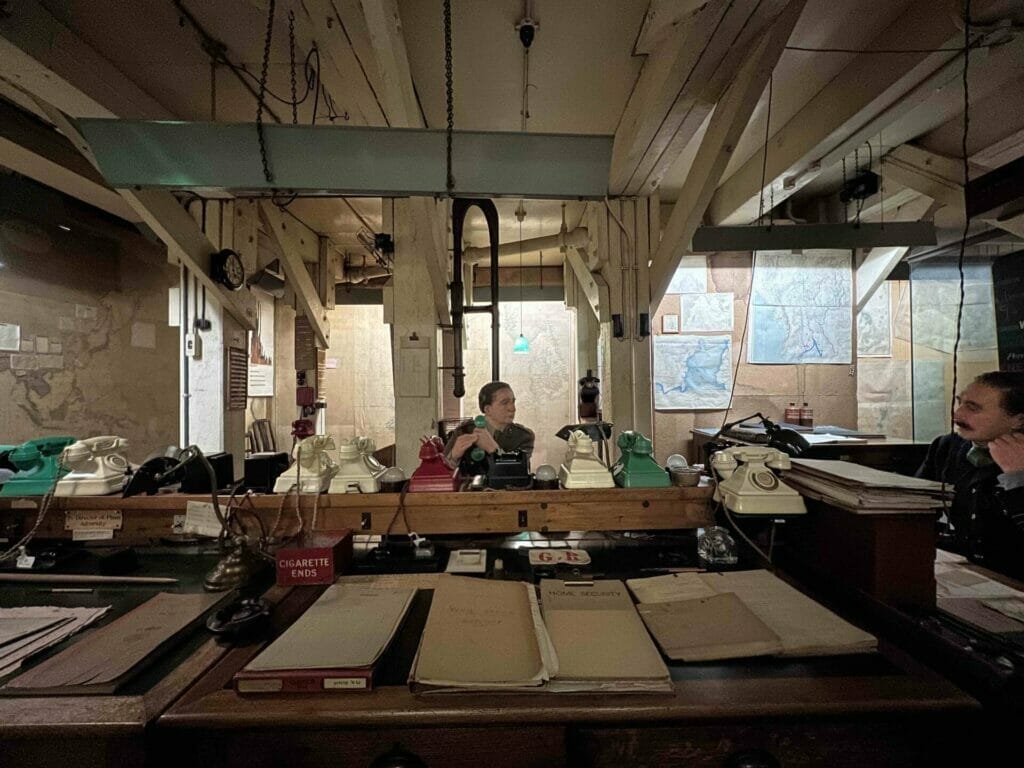 Step into Winston Churchill's underground bunker, preserved exactly as it was during World War II. Explore the Map Room, the Cabinet Room, and learn about the wartime leader's life in the adjoining Churchill Museum. Audioguides provide insights, narrated by the people who worked alongside Churchill. Read our blog post about the Churchill War Rooms.
Battersea Power Station
An iconic landmark on the London skyline, Battersea Power Station has transformed from an industrial giant into a vibrant hub of restaurants, shops, and cultural spaces. Explore the Power Station's art deco interior and marvel at its architectural innovation. It's a living example of how history can be reimagined and preserved.
Each of these sites provides a unique perspective on London's layered history. Whether it's understanding ancient civilizations at the British Museum or appreciating industrial heritage at Battersea Power Station, these historical venues offer something for everyone, irrespective of budget or background.
A trip to these historical sites is not just a lesson in history; it's a connection to the heartbeat of London itself.
Art and Culture
London's cultural landscape is as colorful and diverse as its history. The city's commitment to art, creativity, and innovation is evident in its world-class museums, galleries, and even its streets. Here's a glimpse into some of the must-visit art and cultural destinations:
Tate Modern Museum
Housed in a converted power station along the Thames, Tate Modern showcases contemporary and modern art from around the world. With masterpieces by Picasso, Hockney, Warhol, and more, the museum is a haven for art enthusiasts. Don't miss the Turbine Hall's large-scale installations and the panoramic views from the Tate's terrace. Entry to the main collection is free, with special exhibitions ticketed.
Leake Street (Banksy Tunnel)
London's Hidden Gems : Graffiti and street art enthusiasts should not miss Leake Street, often referred to as the Banksy Tunnel. This authorized graffiti area is a constantly changing canvas for local and international artists. The tunnel's gritty urban vibe offers a fascinating glimpse into London's underground art scene. It's free to explore, so bring your camera and capture a moment in time.
Covent Garden
Covent Garden is more than just a shopping and dining destination; it's a cultural hub where art and performance come alive. Street performers, musicians, and magicians fill the area with energy and creativity. Explore the Apple Market for handmade crafts and local art, or catch a performance at the nearby Royal Opera House. Whether browsing or buying, Covent Garden offers artistic delights for all budgets.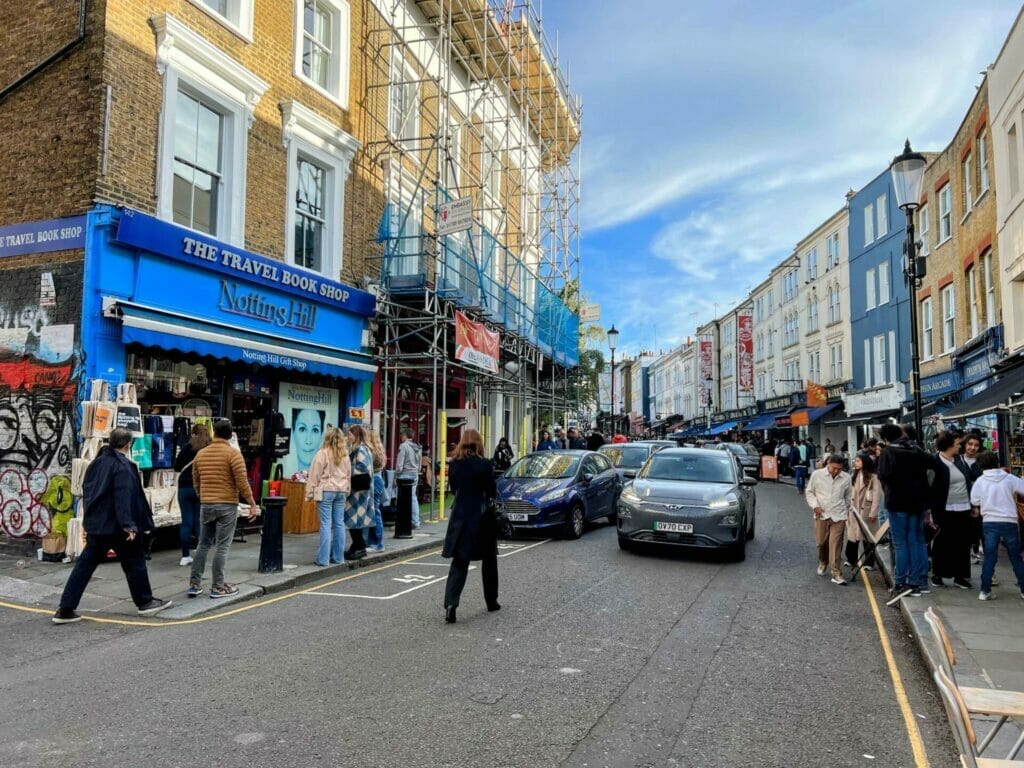 Notting Hill
Famous for its colorful houses and the annual Notting Hill Carnival, this neighborhood is a blend of chic elegance and Bohemian flair. Visit the Portobello Road Market, where antiques meet fashion, and local artists display their work. Wander the streets to explore bookshops, art galleries, and mural-painted walls, reflecting the area's artistic and multicultural spirit.
Shopping and Entertainment
From the pulsating energy of iconic shopping streets to the charm of quirky markets, London's shopping and entertainment scene is as varied as it is exciting. Whether you're hunting for designer brands or one-of-a-kind vintage finds, looking to catch a West End show or explore lively street festivals, London has something to offer:
Oxford Circus
At the intersection of Oxford Street and Regent Street, Oxford Circus is London's shopping heart. Home to over 300 shops, ranging from flagship department stores like Selfridges to trendy high-street brands, it's a shopper's paradise. Don't miss the nearby Carnaby Street, a pedestrianized area known for its unique boutiques and vibrant dining scene.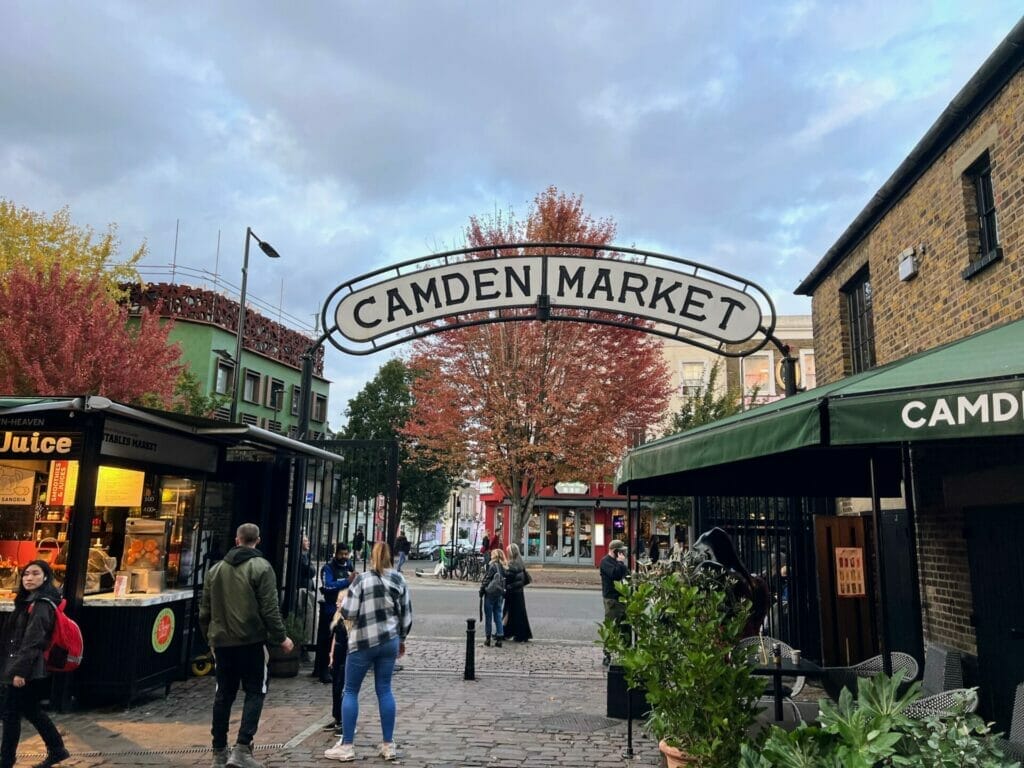 Camden Market
Camden's eclectic markets are a must-visit. Wander through Camden Lock Market with its artisan crafts, Stables Market with vintage clothing, and the food market serving global cuisines. Camden's alternative vibe, live music venues, and street performances add to its appeal. It's a place to shop, eat, and be entertained, all in one go!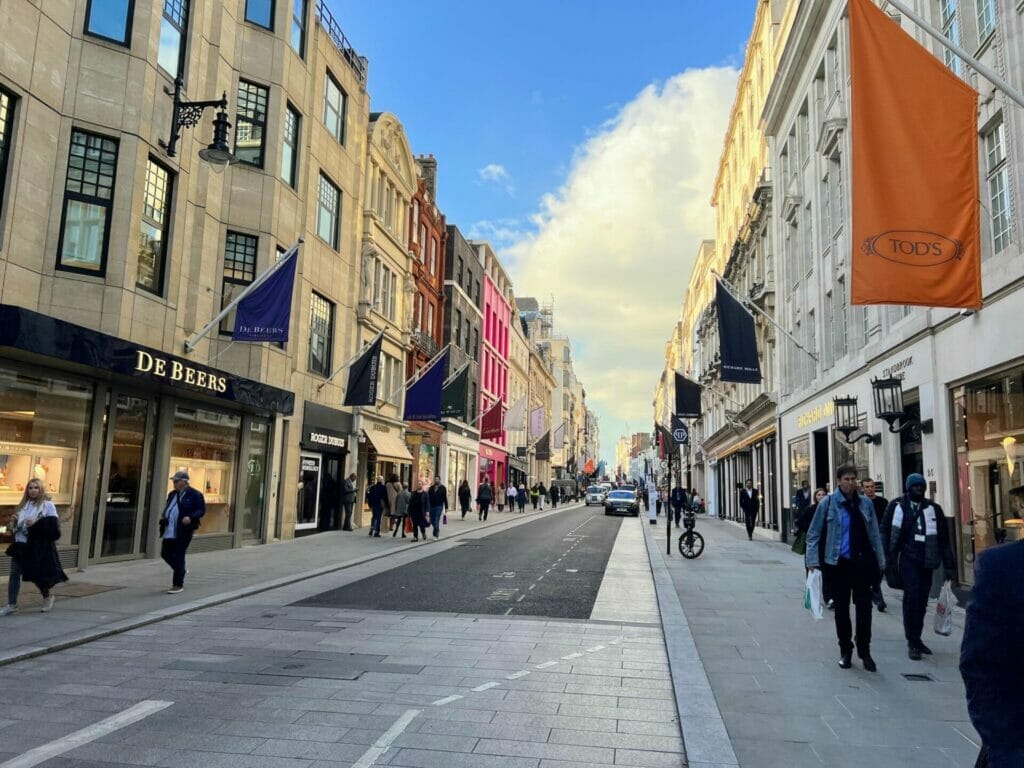 Bond Street
For luxury shopping, Bond Street is unparalleled. Hosting renowned brands like Chanel, Louis Vuitton, and Tiffany & Co., it's a destination for high-end fashion and art. The nearby Royal Academy of Arts and upscale galleries make Bond Street a blend of culture and opulence.
Covent Garden
Besides its cultural appeal, Covent Garden is also known for its shopping and dining. The market building hosts unique shops, while Neal's Yard offers indie brands and beauty products. Street performers provide constant entertainment, and the nearby Theatre Royal Drury Lane is perfect for catching a musical or play.
West End Theatres
Speaking of entertainment, no visit to London is complete without experiencing its famed West End. From long-running classics like « Les Misérables » to modern hits like « Hamilton, » the choice of shows is staggering. Look for discounted tickets at TKTS booths, and enjoy world-class theater without spending a fortune.
South Bank
A walk along the South Bank of the Thames offers entertainment of a different kind. Street musicians, skate parks, food trucks, and outdoor exhibitions create a lively atmosphere. The Southbank Centre, BFI Southbank, and National Theatre add to the cultural buzz.
Notting Hill
Known for its annual carnival, Notting Hill is more than a picturesque neighborhood. The Electric Cinema offers a vintage movie-going experience, while local bars and clubs host live music. Explore, dance, and immerse yourself in Notting Hill's vibrant nightlife.
London's shopping and entertainment scene offers something for every taste and budget. Whether indulging in luxury retail therapy or enjoying a free street performance, the city's energy and creativity are sure to captivate.
Iconic Landmarks
London's skyline is adorned with a remarkable array of iconic landmarks, each symbolizing different facets of the city's character and history. From ancient bridges to modern architectural wonders, here's a guide to some of the city's most beloved landmarks:
Tower Bridge
More than just a means to cross the River Thames, Tower Bridge is an engineering marvel and a symbol of London itself. Visitors can walk along the glass-floored high-level walkways, offering breathtaking views of the city, or explore the Victorian Engine Rooms. Don't miss the opportunity to witness the bridge's bascules lift, a spectacle of engineering finesse.
Big Ben
Officially known as the Elizabeth Tower, Big Ben is one of the world's most famous clock towers. Attached to the Houses of Parliament, its chimes ring out across Westminster. Though currently under restoration, Big Ben's charm and grandeur remain a vital part of London's identity.
Sky Garden
London's highest public garden offers 360-degree views of the city, all for free! Nestled atop 20 Fenchurch Street, the Sky Garden is a lush urban oasis with landscaped gardens, observation decks, and an open-air terrace. To visit, make sure to reserve your ticket in advance at Sky Garden Booking. Enjoy a coffee or meal at one of the on-site restaurants and make the most of this unique, budget-friendly experience. Find Out How to Visit for FREE Inside Our Exclusive Blog Post!
The Shard
For those seeking another unparalleled view, The Shard, Western Europe's tallest building, offers an observation deck on the 72nd floor. The sweeping vistas, combined with state-of-the-art technology, provide an unforgettable perspective on London. Tickets can be purchased online, with options for champagne experiences and combination tickets with other attractions.
Buckingham Palace
The residence of Britain's monarch, Buckingham Palace, is emblematic of the nation's royal heritage. Witness the Changing of the Guard ceremony, a colorful display of British pageantry, or explore the State Rooms during the summer months. The nearby St. James's Park offers beautiful views of the Palace and a relaxing spot to unwind.
Borough Market
While not a traditional landmark, Borough Market's reputation as London's most renowned food market makes it a culinary icon. The market's blend of history, global flavors, and community spirit draws locals and tourists alike. Sample gourmet treats or pick up fresh produce in this bustling, sensory feast.
London's iconic landmarks are more than just sights to behold; they are experiences waiting to be lived. Whether it's the historical grandeur of Buckingham Palace, the modern elegance of the Sky Garden, or the culinary delight of Borough Market, these landmarks offer a taste of London that resonates with all.
Food and Local Experience
London's culinary scene is as rich and varied as its cultural heritage. From Michelin-starred restaurants to local food markets, from international cuisines to time-honored British fare, the city has something to tantalize every palate. Here's a culinary guide that offers a blend of classic and contemporary gastronomic experiences:
London Pubs
A trip to London wouldn't be complete without the warmth and camaraderie of a traditional pub. From historic interiors to cozy fireplaces, London's pubs are as much about atmosphere as they are about food and drink. During my own travels, I dined at a charming pub near the Thames, where I indulged in a classic fish and chips meal, accompanied by a pint of locally brewed ale. The experience was authentic, the service friendly, and the food hearty. Pubs are more than just eateries; they're social hubs where stories are shared, and memories are made.
Soho Dining
Soho is a culinary hotspot, where flavors from around the world meet. Whether it's a trendy vegan café, an authentic Italian trattoria, or a chic cocktail bar, Soho has it all. I found some incredible restaurants, offering everything from gourmet burgers to exquisite sushi. Many places also serve pre-theater menus, making it a perfect destination before a West End show. Explore the narrow streets, and let your taste buds guide you through this vibrant dining neighborhood.
Afternoon Tea
Embrace the quintessentially British tradition of afternoon tea. Whether in a luxurious hotel or a quaint tea room, indulge in delicate finger sandwiches, scones with clotted cream and jam, and an array of fine teas. Many venues offer variations to cater to different dietary preferences, making it an accessible treat for all.
Street Food Festivals
London's ever-evolving street food scene offers gourmet experiences on a budget. Venues like Camden Market and Brick Lane serve up a diverse array of global cuisines, from Korean BBQ to Ethiopian Injera. Keep an eye out for food festivals and pop-up events, offering new and exciting culinary adventures.
Local Food Tours
Consider joining a guided food tour to explore London's culinary heritage. From historical food walks to ethnic food trails, expert guides provide insights into local flavors, traditions, and hidden culinary gems.
London's food scene is a melting pot of traditions, innovations, and global influences. Every meal offers an opportunity to explore, connect, and delight in the city's culinary creativity. Whether it's the familiar comfort of a pub meal or the exciting buzz of Soho's restaurants, London serves up experiences that nourish the body and soul.
Tips for Travelers
Planning a trip to London can be an exciting yet daunting task, especially if it's your first visit. But fret not; we've compiled a list of essential tips and practical advice to make your London adventure smooth and memorable:
A. Practical Advice on Transportation
Visitor Oyster Card
The easiest and most cost-effective way to travel around London is by using a Visitor Oyster card. This pay-as-you-go smart card can be used on most public transportation, including buses, trams, the Underground, Overground, and some river services. You can purchase and top up the card at various locations or online through the official Transport for London website. The card saves time and often offers significant savings compared to paper tickets.
Travel Passes
Consider purchasing a London Travelcard or London Pass to explore multiple attractions, as these passes may provide additional savings.
Biking
London's public bike-sharing scheme is a fun way to explore the city. Simply rent a bike from one of the many docking stations and pedal your way through parks and along bike-friendly paths.
B. Accommodations
Book in Advance
London offers a wide range of accommodations, from luxury hotels to budget hostels. Booking in advance can secure better rates and availability.
Consider the Location
Choose accommodations near major transport links or within walking distance of attractions you plan to visit.
Vacation Rentals
If you're traveling with family or seeking a home-like experience, consider vacation rentals. They often provide more space and amenities like a kitchen, sometimes at a fraction of the cost of hotels.
C. Saving Tips
Free Attractions In London
Many of London's top attractions are free, including some major museums (Tate Modern) and galleries. Don't forget, the Sky Garden is a fantastic free experience, but booking in advance is required.
Dining Deals
Look for early-bird specials or pre-theater dining options in areas like Soho. Pub meals can also be a delicious and budget-friendly choice.
Discount Cards
Apart from the Visitor Oyster card, consider discount cards like the London Pass for savings on attractions, tours, and more.
D. Other Essentials
Weather in London
London's weather can be unpredictable. Pack layers and carry an umbrella. You might experience all four seasons in one day!
Safety
London is generally safe, but it's wise to take common-sense precautions. Be aware of your surroundings, especially in crowded areas, and keep your belongings secure.
Health and Insurance
Consider travel insurance, and be aware of local healthcare facilities. Pharmacies are widely available for minor ailments, and the NHS provides emergency care.
E. Embrace the Local Culture
Explore Beyond the Tourist Traps
Engage with locals, visit neighborhood markets, and explore lesser-known parks and streets. London is a city of diverse communities, each with its own charm.
These tips aim to guide you through the practicalities, but it's your curiosity and willingness to explore that will make your London experience truly extraordinary. And with options like the Visitor Oyster card, London's wonders are accessible to travelers on any budget.
Conclusion
London, with its rich tapestry of history, art, culture, shopping, entertainment, and culinary delights, is a city that captivates the hearts and minds of travelers from around the world. Whether it's the timeless charm of historical sites like the Tower of London, the creative pulse of places like the Tate Modern and Banksy Tunnel, the retail therapy of Oxford Circus and Bond Street, or the iconic grandeur of Big Ben and Tower Bridge, London offers an inexhaustible array of experiences.
The city's culinary scene invites you to savor the traditional warmth of a pub meal, indulge in the diverse flavors of Soho, or enjoy a gourmet adventure at Borough Market. The accessibility of transport options like the Visitor Oyster card makes exploring London both easy and budget-friendly.
But London's real magic lies in its neighborhoods, its streets, and its people. It's in the unexpected discoveries, the shared smiles with locals, the serendipitous encounters at a street corner, and the sunsets over the Thames.
Whether you're a seasoned globetrotter or a first-time explorer, London extends an invitation to lose yourself in its stories, to wander, to learn, and to grow. So pack your bags, reserve that free ticket to the Sky Garden, and set your compass towards London. Your adventure is waiting, and it's as boundless as your imagination and as accessible as your next step.
Embrace the journey, for London's treasures are not just in its famous landmarks but in the very fabric of its daily life. And remember, no matter your budget, the enriching experiences and rewarding opportunities that travel brings are always within reach.
Happy traveling, dear explorers, and see you in London! 🎡🏰🇬🇧
Additional Resources
Planning a trip to London can be both exciting and overwhelming, but these additional resources can make the process smoother and more enjoyable. From accommodation booking to special events, these tools and websites cater to various travel needs:
A. Official Tourism and Transport Websites
Visit London
The official tourism website offers comprehensive information on attractions, events, accommodations, and more.
Transport for London (TFL)
Visit the TFL website for all your public transportation needs, including the Visitor Oyster card, route planners, and service updates.
B. Accommodation Platforms
Booking.com: A popular platform for booking hotels, hostels, and vacation rentals in London.
Airbnb: Great for finding unique accommodations and local experiences.
C. Attraction Tickets and Passes
The London Pass
This all-in-one pass provides entry to various attractions and can save you money if you plan to visit multiple sites.
D. Local Events and Entertainment
Time Out London
Check Time Out for London's latest events, concerts, exhibitions, and more.
West End Theatre Tickets
Book tickets for London's famous theatre shows through reputable platforms like London Theatre Direct.
E. Health and Safety Information
NHS Travel Health
Information on vaccinations, healthcare for tourists, and more can be found on the NHS website.
G. Mobile Apps
Citymapper
This app provides real-time transport updates and is handy for navigating London's public transportation system.
TripAdvisor
Great for reviews, recommendations, and travel forums specific to London.
These resources aim to enhance your travel planning experience, allowing you to tailor your trip to your interests, budget, and needs. Whether you're looking for the perfect hotel, seeking discounted attraction tickets, or trying to discover local events during your stay, these tools are here to help you create a London adventure that's as unique as you are.
Happy planning, and may these resources guide you to the best that London has to offer! 🌍✈️🇬🇧
London Tourist Map
Afficher une carte plus grande
RECOMMENDED