Among its bustling streets and beside the iconic Thames is a hidden gem that's witnessed some of the most critical decisions of the 20th century: The Churchill War Rooms. The British Government underground nerve center during World War.
Nestled beneath the bustling government district of Whitehall, the Churchill War Rooms are more than just a museum; they're a time capsule. It's a London's Must-See Attraction. If you've walked the paths of St. James's Park or heard the chimes of Big Ben, you've been closer to this historical heartbeat than you might have realized.
During the dark days of World War II, when London's very essence was under siege, this underground bunker became a sanctuary of strategy, decision-making, and resilience – The Underground Headquarters. Led by the indomitable Winston Churchill, it was within these walls that Britain's wartime fate was shaped.
Whether you're a history buff, a curious traveler, or a Londoner keen to uncover the secrets beneath your daily commute, this article will guide you through the corridors of the past. Join me as we explore the Churchill War Rooms, delve into their secrets, and discover the echoes of history that still resonate today.
Trust me, this is one London story that will take you beyond the typical tourist trail and into the very heart of Britain's wartime legacy. So grab your Oyster card and sense of adventure; we're going underground.
Churchill War Rooms – Historical Background
To truly grasp the essence of the Churchill War Rooms, one must step back into the very fabric of London's wartime history. Picture this: the year is 1938, and the drumbeat of conflict resonates across Europe. The threat of invasion looms, and London prepares for a war that feels all but inevitable.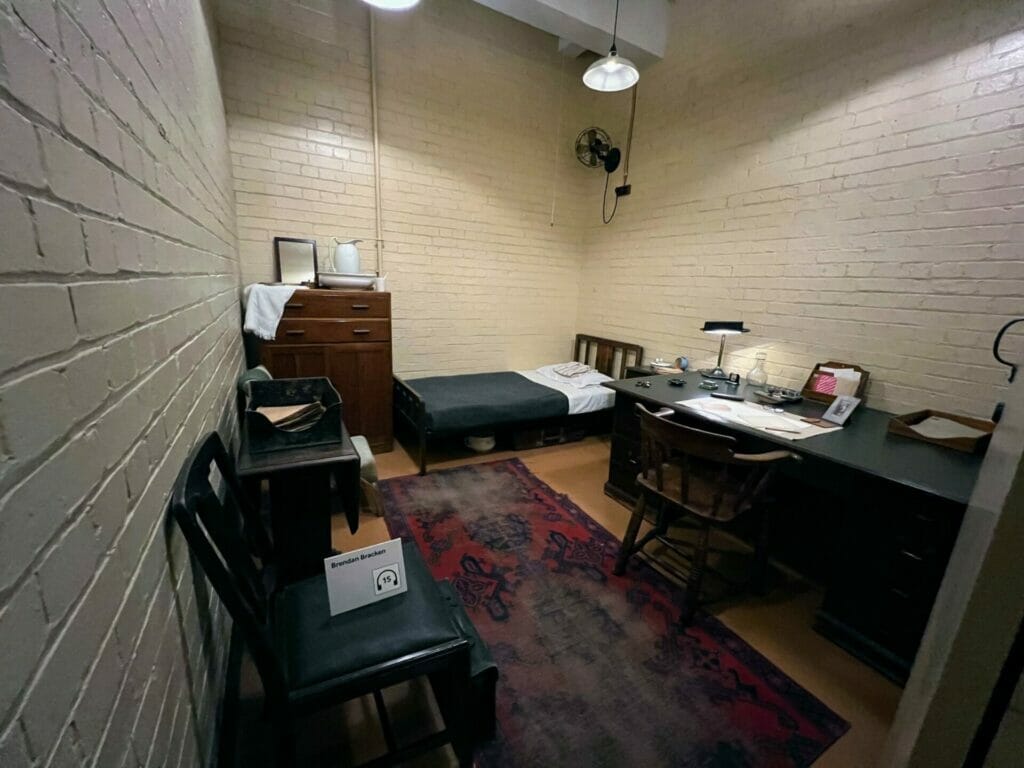 A. The Inception and Creation of the War Rooms
Nestled beneath the Treasury building on King Charles Street, a decision was made to convert an existing basement into a secure and functional space. It's not a grandiose setting – quite the contrary. Yet, its very modesty speaks volumes about the urgent pragmatism of those times. This unassuming underground bunker was transformed into the War Cabinet Room, where decisions that would shape the war's course were made.
B. Winston Churchill's Role
Enter Winston Churchill, a character as inseparable from London as the River Thames itself. It was here that he held his first War Cabinet meeting just two days after becoming Prime Minister in May 1940. Churchill's presence still echoes in those rooms; his quotes adorn the walls, and his famous cigar smell is said to linger still.
C. Key Events within the War Rooms
As London's skies were scarred by the Blitz, the War Rooms became a hive of activity. Strategies were devised, intelligence was gathered, and vital communication with Allied forces was maintained. One can almost hear the hurried footsteps of military aides and the determined voice of Churchill rallying his war-weary nation.
From D-Day planning to managing crises, the bunker's maze of rooms saw it all. They served as the nerve centre of Britain's war effort, right up until Japan's surrender in August 1945.
In the heart of a city renowned for its royal palaces and grandiose buildings, the Churchill War Rooms stand as a poignant reminder of a time when victory was uncertain and London's very survival hung in the balance. It's not just a place to remember; it's a place to understand.
London's streets are lined with history, but the Churchill War Rooms take you beneath the surface – quite literally. As you explore these rooms, you're not merely observing the past; you're stepping into it. And trust me, dear reader, as someone who's roamed London's every nook and cranny, there's no place quite like it.
Exploring the Museum
London's rich tapestry of museums and galleries is world-renowned, but the Churchill War Rooms offer an experience that transcends mere observation. It's an immersive journey into the past, a place where history is not just displayed but relived.
A. Description of the Churchill Museum
Within the War Rooms lies the Churchill Museum, the world's only museum dedicated to the entirety of Sir Winston Churchill's life. It's as complex and multifaceted as the man himself. Here, you can delve into Churchill's early years, his political struggles, his wartime leadership, and his enduring legacy. There are artifacts, interactive exhibits, and personal mementos, all of which paint a vivid picture of a man who is as much a part of London's character as its iconic red buses.
B. Highlights of the Cabinet War Rooms
Venture further into the complex, and the Cabinet War Rooms await. These aren't mere exhibits; they're preserved spaces where history was made. Step into the Map Room, left untouched since 1945, and you can almost see the generals plotting Allied movements. The Cabinet Room, where Churchill presided over wartime decisions, is equally moving. You're not just viewing history; you're standing in its very footprints.
C. Interactive Displays and Exhibits
In true London fashion, the Churchill War Rooms don't merely tell you about history; they invite you to become a part of it. Through cutting-edge interactive displays, you can sift through digital copies of Churchill's personal documents or engage with multimedia presentations that bring his speeches to life. It's not merely a museum; it's a conversation with the past.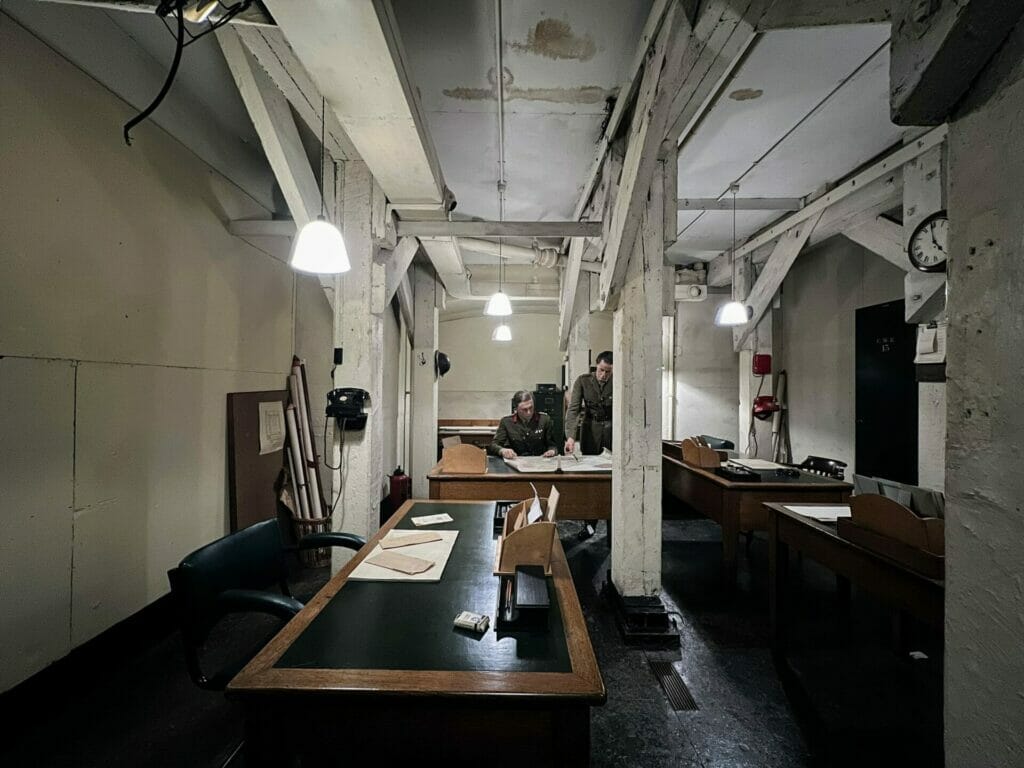 As someone who's trodden the paths of London from its bustling markets to its royal gardens, I can attest that the Churchill War Rooms are a unique gem in this city's crown. The blend of authenticity and modern interpretation, the tangible connection to the past, and the intimate exploration of a man who shaped our nation make this a must-visit for anyone keen to understand what London was, is, and continues to be.
So, whether you're a history lover, a London veteran, or a first-time visitor, set aside a morning or an afternoon for the Churchill War Rooms. It's not just another museum; it's a living testament to a time, a place, and a man who is quintessentially London.
A Personal Touch: Experience of Visiting
There's a certain thrill in stepping off the well-trodden paths of London, escaping the hustle of Westminster, and finding yourself in a place that feels like a secret held close by the city. That's the sensation I felt the first time I descended into the Churchill War Rooms.
A. The Atmosphere
The modern world seemed to fade away as the door closed behind me. The dimly lit corridors, the scent of old wood and paper, the distant echoes of wartime broadcasts – it's a world preserved in time yet alive in memory. I've walked London's every lane, from the grandeur of Buckingham Palace to the buzz of Camden Market, but nowhere else have I felt such an immediate connection to history.
B. The Details That Stand Out
What struck me most were the small details that breathed life into the past. Churchill's reading glasses left on a desk, the worn maps with scribbled notes, the cot where tired officers would catch a brief respite. These are not mere relics, but echoes of lives lived in extraordinary times.
C. Emotional Connection
Visiting the Churchill War Rooms was an intellectual exploration and an emotional journey. Standing in the room where Churchill rallied his cabinet, I felt a chill run down my spine. The gravity of what transpired within these walls became palpable, the decisions that were agonized over, the victories celebrated, and the losses mourned.
D. The Londoner's Perspective
As a seasoned Londoner who's seen the ever-changing face of this city, the Churchill War Rooms hold a special place in my heart. They're a reflection of London's resilience, its rich history, and its unbreakable spirit. This isn't merely a tourist attraction; it's a profound experience that resonates with those who know London's soul.
If you wander the streets of Westminster, I urge you to take the detour that leads beneath the surface. The Churchill War Rooms are not just a part of London's history but part of its very essence. And believe me, as someone who's explored every hidden corner of this great city, this journey will stay with you long after you ascend back into the hustle and bustle of London life.
Certainly! Continuing with the voice of someone deeply acquainted with London, here's the section on practical information for visitors to the Churchill War Rooms:
Practical Information for Visitors
Ah, the pragmatic side of exploring London's wonders! While the Churchill War Rooms are a world away from the city's bustling streets, getting there and making the most of your visit requires a bit of good old London know-how. Allow me to guide you through it.
A. Location
Nestled in the heart of Westminster, the entrance to the Churchill War Rooms is on Clive Steps at King Charles Street. It's just a stone's throw from 10 Downing Street. If you've strolled along the Thames or marveled at Big Ben, you're already in the neighborhood.
B. Getting There
For those familiar with London's iconic Underground, the nearest Tube stations are Westminster (on the Jubilee, District, and Circle lines) and St. James's Park (on the District and Circle lines). London's public transportation is a story in itself, so grab an Oyster Card and enjoy the ride.
C. Opening Hours
The War Rooms usually open their doors at 9:30 AM and say their goodbyes at 6:00 PM, with the last admission at 5:00 PM. But, as with many things in London, it's wise to check ahead for any special events or unexpected closures.
D. Tickets and Accessibility
Advance booking is a seasoned Londoner's trick, especially for popular spots like this. You can purchase tickets online to save time and even a few quid. If you need wheelchair access, rest assured; the museum is accessible, though it's best to notify them in advance.
E. Tips from a Local
Take your time. This is a place of layers, and each room tells its tale. Don't rush through like a Piccadilly Circus commuter. Also, don't miss the on-site café; it's a charming spot to reflect on what you've seen, perhaps with a traditional English scone in hand.
London is a city of surprises, and the Churchill War Rooms are one of its most compelling secrets. As someone who's navigated this city's every twist and turn, I can tell you that a visit here is more than a sightseeing stop; it's a step into the heart of what makes London truly unforgettable.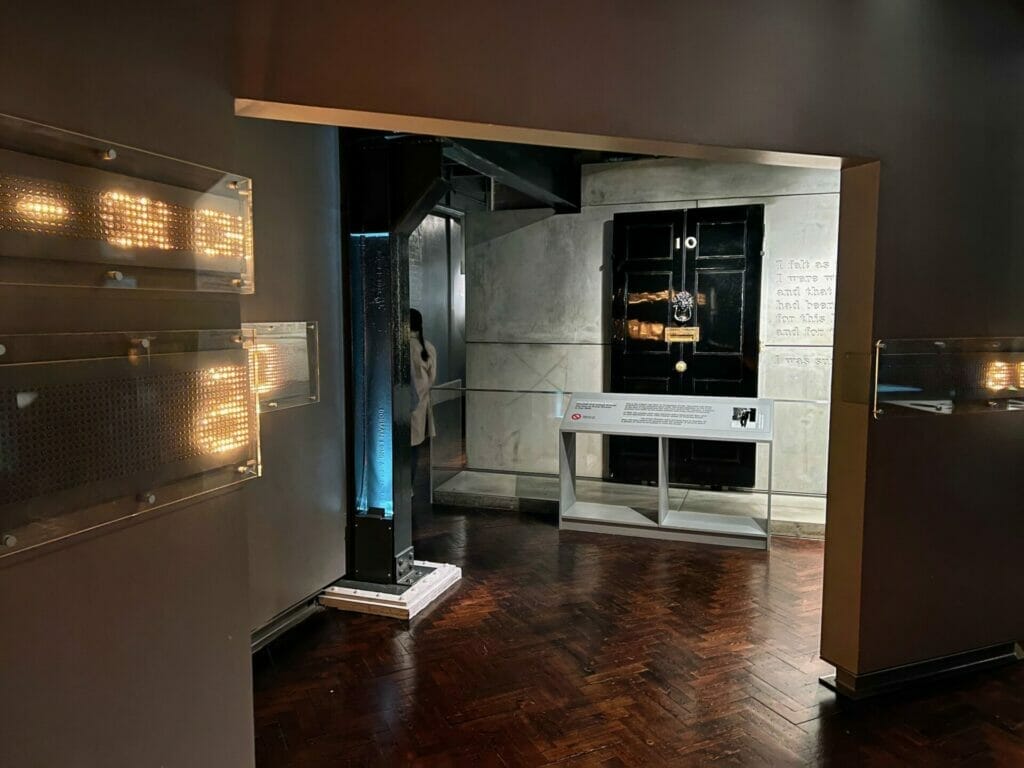 Tips and Recommendations
Ah, London. A city of endless possibilities, where every street echoes with history, and every corner hides a new discovery. Visiting the Churchill War Rooms is an experience not to be rushed, and for those who know this grand city, there are some insider tips to enhance your journey.
A. Best Time to Visit
As with many London gems, weekends and school holidays can be busy. Try to visit on a weekday morning if you can. There's a unique tranquillity in the early hours, a chance to explore without the crowds.
B. Combine with Nearby Attractions
Being in Westminster, you're surrounded by London's iconic sites. Why not combine your visit with a stroll along the Thames, or perhaps a tour of Westminster Abbey? Your day in the heart of London can be as rich and varied as the city itself.
C. Guided Tours
The Churchill War Rooms offer an excellent audio guide, but for those who want a deeper connection, guided tours are available. These tours often provide insights and stories that you won't find elsewhere. Trust me, it's worth considering.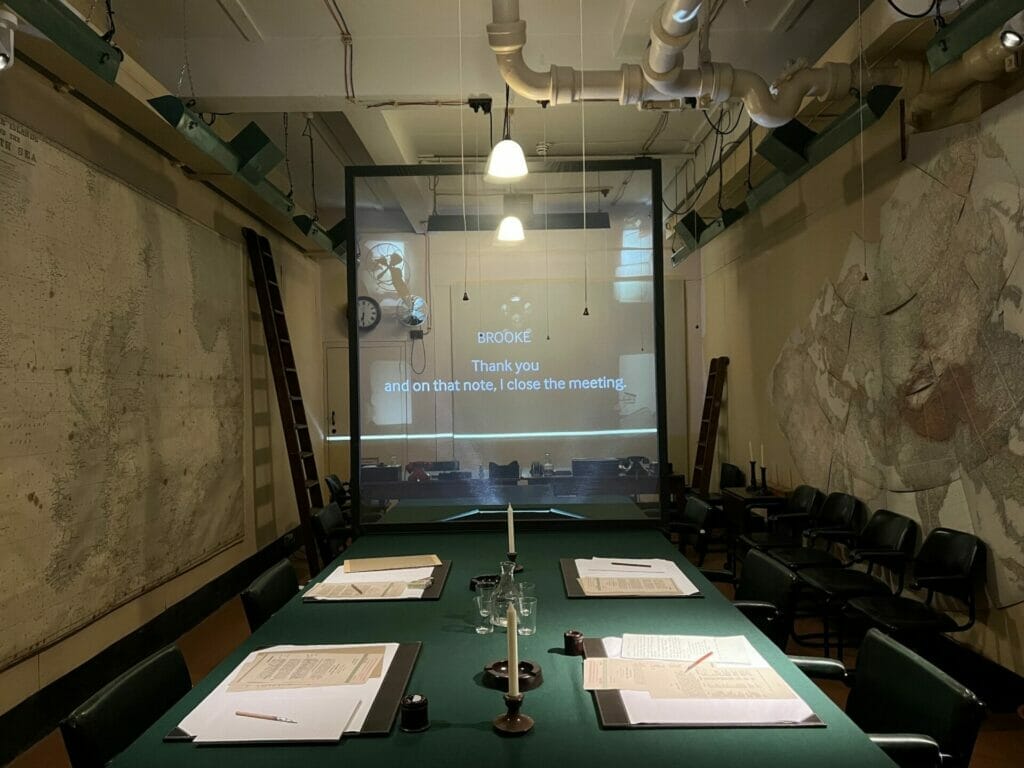 D. Dining Options
London's culinary scene is as diverse as its culture. After your visit, consider exploring nearby eateries. From classic British fare in traditional pubs to contemporary cuisine in trendy bistros, Westminster has something to satisfy every palate.
E. Wear Comfortable Shoes
This might seem trivial, but a true Londoner knows that exploring the city requires comfortable footwear. The Churchill War Rooms invite leisurely exploration, so wear something that will let you enjoy the journey without distraction.
F. A Hidden Gem: The Shop
Don't overlook the museum's shop on your way out. It's a treasure trove of unique books, wartime memorabilia, and gifts that capture the era's spirit. It's more than a souvenir stop; it's a chance to take a piece of history home.
G. Embrace the Experience
Lastly, don't just see the Churchill War Rooms, feel them. Allow yourself to be transported, to immerse in the world that once was. It's not just about the artifacts and exhibits; it's about connecting with a time and place that shaped our great city.
London's heartbeat is felt in its history, culture, and people. The Churchill War Rooms are not just a museum but part of London's soul. And as someone who's navigated this city's every nook and cranny, I assure you that this visit will resonate long after you've left those hallowed halls.
Certainly! Drawing from the familiar and warm tone of a seasoned Londoner, here's the concluding section for the blog post about the Churchill War Rooms:
Conclusion
Well, there you have it, my friend – a little glimpse into one of London's most intriguing corners. The Churchill War Rooms aren't just another museum; they're not merely a tourist attraction. They are, quite simply, a part of London's heartbeat.
Here, beneath the bustling streets and the ever-changing skyline, lies a piece of history that's as alive and as vibrant as the city itself. It's a connection to a time that shaped our nation and a tribute to the resilience, determination, and vision that embody the London spirit.
From the echoes of Churchill's speeches to the scribbles on wartime maps, this place invites you to step into a world that's frozen in time yet forever etched into our collective memory. And trust me, as someone who's wandered London's maze-like streets for years, the Churchill War Rooms stand out as a living testament to our heritage.
Whether you're a history buff, a curious explorer, or someone seeking to understand the very fabric of this great city, the Churchill War Rooms will not disappoint. And it's not just about what you see; it's about what you feel, what you learn, and what you take away.
So, take a little detour the next time you find yourself strolling down Whitehall. Venture down Clive Steps, and you'll discover a London that's waiting to tell you its story. A London that's proud of its past, confident in its present, and excited for its future.
Come and experience it for yourself. London is not just a place; it's a feeling. And the Churchill War Rooms are a part of that feeling, a chapter in our ever-unfolding tale.
I'll see you there.