Nestled amidst London's thriving architectural marvels, the Sky Garden effortlessly commands attention. An oasis in the sky, this indoor garden has become synonymous with elegance, tranquility, and unforgettable vistas. Situated on the 35th floor of the iconic building at 20 Fenchurch Street, it is more than just a tourist destination—it's a testament to human ingenuity and a celebration of nature within urban confines.
Visitors from around the globe are drawn to its panoramic views that stretch as far as the eye can see. From the majestic River Thames winding its way through the city to historic landmarks standing tall against the skyline, the views are nothing short of spectacular. And the best part? This breathtaking experience, the chance to visit the Sky Garden, is absolutely free.
But the Sky Garden is not just about what you see; it's about what you feel. The gentle rustling of leaves, the aroma of blooming flowers, and the subtle play of shadows and light all contribute to an ambiance that's both enchanting and grounding. It's a place where the bustling city seems to pause, allowing you a moment of reflection and connection.
In the pages that follow, we'll explore the various facets of this remarkable destination, guiding you through the vibrant indoor garden, the sweeping observation decks and open-air terrace, the chic City Garden Bar, and much more. Whether you're a first-time visitor or a London local, the Sky Garden promises an experience that's rich, rewarding, and refreshingly unique.
Prepare to be captivated. Prepare to see London like never before.
The Sky Garden Experience
A. Indoor Garden
Stepping onto the 35th floor of the building on Fenchurch Street, you're immediately transported into a world that juxtaposes nature with urban sophistication. The Sky Garden is not merely a garden but a living piece of art, sculpted with precision and grace.
Meandering through the leafy corridors, you'll encounter an array of exotic plants, vibrant flowers, and towering trees. Each carefully chosen species contributes to an ecosystem that thrives high above the city streets. The delicate sound of water features and the subtle fragrance of blossoms complete this sensory delight.
B. Panoramic and Spectacular Views
Beyond the foliage lies the reason why many visit the Sky Garden: the panoramic views that stretch across London's iconic landscape. Whether it's your first glimpse or your hundredth, the sight never ceases to amaze.
The observation decks and open-air terrace serve as windows to London's soul. From this vantage point, the city unfurls in a breathtaking panorama, with historic monuments, winding rivers, and bustling neighborhoods seamlessly merging into one picturesque canvas.
But it's not just about looking; it's about feeling the pulse of a city that's alive and ever-changing. As the sun sets, painting the sky with hues of gold and pink, the spectacular views evolve into a mesmerizing spectacle, with lights twinkling and the cityscape transforming into a nocturnal wonder.
Whether you're a photographer seeking the perfect shot, a romantic looking for an unforgettable date spot, or a traveler thirsting for new perspectives, the Sky Garden's vistas offer something for everyone.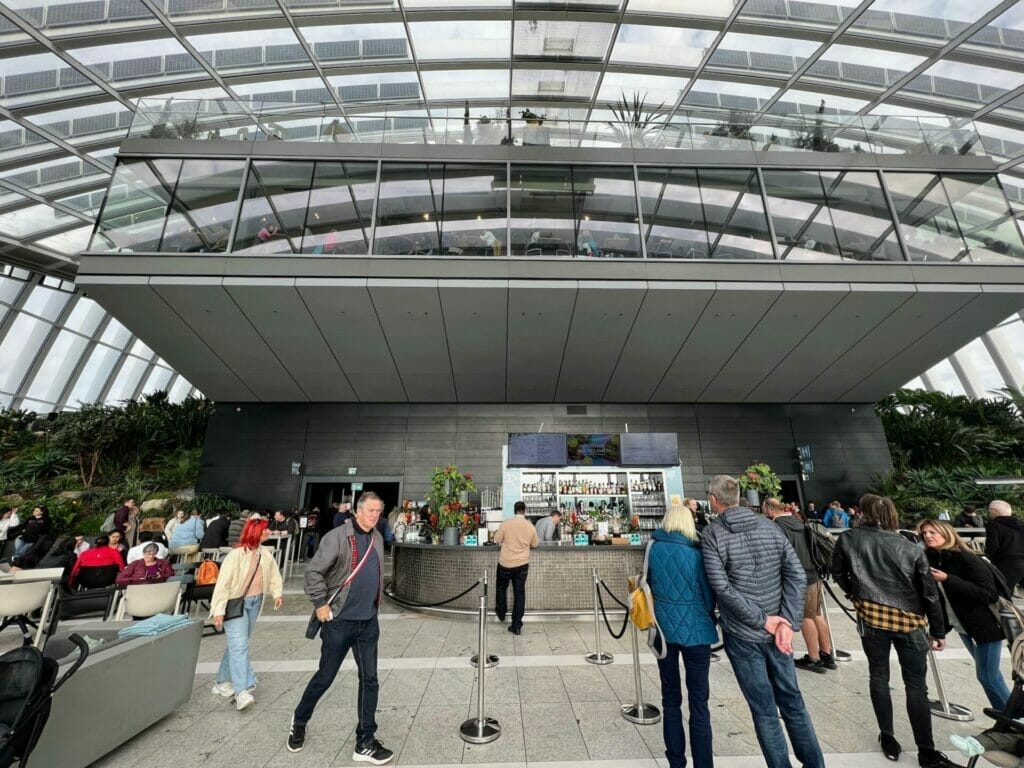 The Sky Garden Experience: A Symphony of Sights and Sensations
The magic of the Sky Garden lies in its ability to enchant and inspire. Here, the indoor garden merges with the city's horizon, creating a space where nature and architecture dance in perfect harmony. Every visit invites discovery, every angle reveals beauty, and every moment at the Sky Garden becomes a cherished memory.
So, why wait? The Sky Garden is free, and the experience is priceless.
### 3. Planning Your Visit
A journey to the Sky Garden is a journey into the extraordinary, and with a little planning, you can ensure that your visit is as smooth as it is spectacular.
A. How to Visit the Sky Garden
The Sky Garden warmly welcomes everyone, and the best part is that entry is completely free. However, to maintain an intimate experience, visitor numbers are controlled, and booking in advance is essential.
Simply visit [this link](https://skygarden.london/booking/) to secure your spot. Tickets are typically released three weeks in advance, so it's wise to plan ahead, especially during peak seasons. Don't worry if you miss out on a pre-booked ticket; a limited number of walk-in tickets are available daily.
B. Best Times to Go
While the Sky Garden offers a breathtaking experience at any time of the day, some moments are truly magical.
Morning: Enjoy a peaceful start to your day as the sun casts a golden glow over the city.
Afternoon: Perfect for those who love to bask in the sunlight and enjoy clear, far-reaching views.
Evening: Witness the city transform as it lights up, creating a romantic ambiance that's perfect for couples.
C. Getting There
Located at 20 Fenchurch Street, the Sky Garden is accessible via several transport options.
Tube: The nearest underground stations are Monument, Tower Hill, and Aldgate.
Bus: Various bus routes service the area.
Bike: Bicycle parking facilities are available nearby.
Car: Though driving is possible, parking is limited, and public transport is often more convenient.
D. Accessibility
The Sky Garden is fully accessible to visitors with disabilities, and staff are always on hand to assist with any special requirements.
Your Visit to the Sky Garden: A Thoughtful Adventure
A visit to the Sky Garden is more than just an excursion; it's an invitation to experience London from a whole new perspective. Whether you're a local rediscovering the city or a traveler exploring it for the first time, this oasis on the 35th floor is a treasure waiting to be uncovered.
Dining and Refreshments at Sky Garden
Sky Garden isn't merely a feast for the eyes; it's also home to some of London's most refined dining experiences, tailored to satisfy every palate and occasion.
A. Sky Pod Bar
Perched among the clouds, the **Sky Pod Bar** offers a relaxed and casual atmosphere where guests can enjoy a wide selection of cocktails, wines, and beers. The bar's specialty cocktails, inspired by the garden surroundings, are the perfect way to unwind as you take in the breathtaking views. Open from early morning, it's also an ideal spot for a coffee and breakfast with a difference.
B. City Garden Bar
Tucked within the lush indoor garden, the **City Garden Bar** presents a more informal setting for those looking to enjoy a light meal or snack. From gourmet sandwiches to delightful pastries, the offerings here are as pleasing to the eye as they are to the taste buds.
C. Darwin Brasserie
For those seeking a complete dining experience, the **Darwin Brasserie** is the place to be. Offering a delightful array of British-European cuisine, the restaurant captivates diners with its delicious dishes, seasonal ingredients, and panoramic views. Whether it's a brunch in the clouds or an intimate dinner, Darwin Brasserie promises an experience like no other.
D. Fenchurch Restaurant
Situated on the 37th floor, **Fenchurch Restaurant** is Sky Garden's crown jewel. This renowned restaurant offers a fine dining experience that's as sophisticated as it is delicious. With a carefully curated menu that showcases the very best of British cuisine, every dish is a masterpiece, and the views are equally sublime.
E. Reservations and Attire
While casual dining options are available, reservations are recommended for the restaurants, particularly if you're planning to visit during peak times. The dress code ranges from smart-casual at Darwin Brasserie to more formal attire at Fenchurch Restaurant.
F. Culinary Journey Above the Clouds
At Sky Garden, dining transcends the ordinary, transforming into an unforgettable culinary adventure. Each venue, meticulously designed and exquisitely managed, offers a unique taste of London's vibrant food culture.
Whether you're celebrating a special occasion, catching up with friends, or simply indulging in the pleasures of good food and spectacular views, the Sky Garden's dining experiences are sure to elevate your visit to new culinary heights.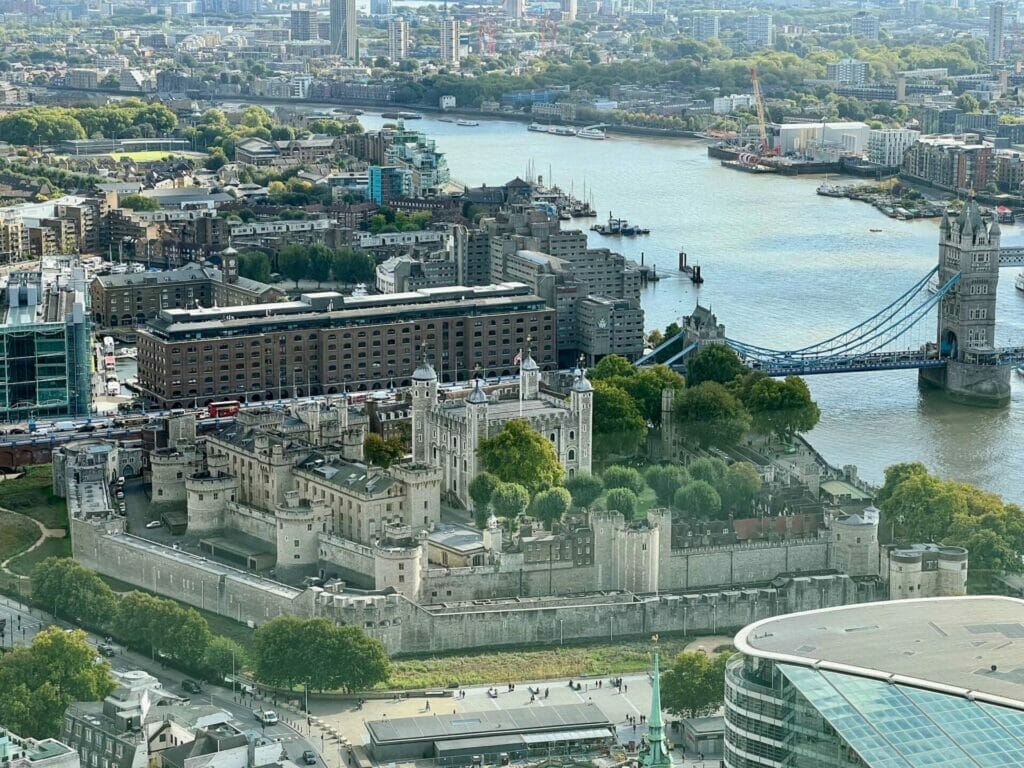 Tips for Visitors
Visiting the Sky Garden is a unique experience, and a few insider tips can enhance your time at this breathtaking urban oasis. Here's what you need to know:
A. Book in Advance
Though the Sky Garden is free, the demand for tickets can be high, especially during peak times. Reserve your ticket online at [Sky Garden Booking](https://skygarden.london/booking/) to avoid disappointment.
B. Dress Appropriately
If you plan to dine at one of the fine dining establishments, such as the Fenchurch Restaurant, be mindful of the dress code, which can range from smart-casual to formal.
C. Arrive Early
Due to security checks at the entrance, arriving a little early ensures a smooth and timely entry. Plus, you'll have more time to soak in the spectacular views!
D. Explore the Observation Decks and Open-Air Terrace
Don't miss the chance to explore the various observation decks and the stunning open-air terrace. Each vantage point offers a unique perspective of London's skyline.
E. Take Advantage of the Free Guided Tours
Available daily, free guided tours provide fascinating insights into the architecture, plants, and design of the Sky Garden. They are led by knowledgeable guides, adding depth to your experience.
F. Consider the Weather
While the indoor garden is always welcoming, the open-air terrace may be affected by weather conditions. Check the forecast if the terrace is a must-see for you.
G. Capture the Moment
Photography is allowed, so don't hesitate to capture the awe-inspiring panoramas. Just remember to be mindful of other visitors.
H. Explore Nearby Attractions
Located on Fenchurch Street, the Sky Garden is close to other notable London attractions. Consider planning your day to explore nearby sites.
I. Enjoy at Your Own Pace
With no time limit on your visit, take the opportunity to relax and relish the unique ambiance. Whether you choose to indulge in fine dining or simply enjoy the views, the Sky Garden is yours to explore at leisure.
J. Visit to Remember
With these tips in hand, your visit to the Sky Garden is set to be an unforgettable adventure. From the lush indoor garden to the panoramic views and everything in between, your experience on the 35th floor is destined to be one of the highlights of your London trip.
Conclusion
In the heart of London's bustling financial district, a remarkable haven awaits you. The Sky Garden, nestled on the 35th floor of the iconic building at Fenchurch Street, is not just a destination but a sublime journey. It is where the art of architecture meets the serenity of nature, and where panoramic views breathe new life into the city's familiar skyline.
Whether you visit the Sky Garden to escape the urban rush, celebrate a special occasion, or simply indulge in the pleasure of spectacular views, it promises an experience that lingers long after you descend from those lofty heights. From the lush indoor garden to the open-air terrace, fine dining, and observation decks, every moment spent here adds a touch of magic to your London adventure.
What sets the Sky Garden apart is its accessibility. While offering an experience that feels exclusive and luxurious, the fact that the Sky Garden is free allows everyone to partake in its beauty. It's a testament to London's spirit, where the extraordinary is never out of reach.
So, as you plan your trip to the British capital, make room in your itinerary for the Sky Garden. Reserve your spot, pack your camera, and prepare to be enchanted. Because in a city brimming with history and culture, the Sky Garden stands as a unique testament to human creativity and the endless allure of nature, all harmoniously intertwined in one spectacular venue.
Additional Resources
For those eager to delve deeper into the Sky Garden experience or seeking more detailed information, the following resources offer valuable insights and guidance:
1. Official Sky Garden Website: Comprehensive information on ticket bookings, guided tours, dining options, and special events. Visit the Sky Garden website.
2. City Garden Bar: Details on menu offerings, opening hours, and reservations for the casual dining experience at Sky Garden. Explore City Garden Bar
3. Nearby Attractions Guide: Explore other attractions near Fenchurch Street, making the most of your day in London. See London's nearby attractions
4. Transportation Information: Learn about the best ways to reach the Sky Garden, including public transportation options and parking facilities. Transport for London.
5. Visitor Reviews and Photos: Real experiences from travelers who've visited the Sky Garden, including tips and inspiring photos. Read reviews on TripAdvisor.
By exploring these resources, you can tailor your visit to match your interests and needs, creating an unforgettable Sky Garden experience.
RECOMMENDED