Mastering Air Travel – Traveling the world can be a poetic Flight Experience. With decades under my belt as a globetrotter, I can unveil the 12 indispensable tips that can transform your air journey into a harmonious ballet.
Elevate Your Journey: Crafting the Perfect Flight Experience
Have you ever wondered what separates a typical air traveler from a seasoned jet-setter? It's not just about the frequency of flights or the miles logged, but the quality of each journey. The world of aviation is vast, with its quirks, perks, and pitfalls. However, diving into the nuances of this realm can be the difference between an ordinary trip and an extraordinary flight experience.
Join me as we embark on a journey to uncover tips, tricks, and secrets that will transform your next airborne adventure into an unparalleled flight experience. Whether you're a novice flyer or an aviation aficionado, there's always room for a smoother, more enjoyable ascent into the skies.
Your Essential Guide to Flawless Air Travel: The 12 Golden Rules
The Digital Travel Companions: In today's age, airline apps aren't merely for check-ins. Consider them your pocket-sized concierge, ready to alert you about flight details, gate changes, and even lounge offers. Alongside, apps like TripIt become your digital dossier, consolidating all trip details for easy access.
Loyalty and its Luxuries: Airline credit cards, coupled with elite statuses, open the doors to perks like complimentary bags and early boarding. Play the strategic game of collecting miles, and you'll soon revel in the upper echelons of travel comfort.
Aircraft Acumen: Beyond the airline emblem, delve deeper. Different aircraft models offer varying experiences. Equip yourself with knowledge about amenities and legroom peculiarities to avoid unexpected surprises.
Seating, More than Just a Spot: Use platforms like SeatGuru to pick the perfect perch. Avoid the pitfalls of high-foot-traffic zones and ensure your journey is as placid as possible.
Security with Serenity: TSA PreCheck and Global Entry not only mean fewer lines but a calmer security experience. Pair this with MiFlight, which provides a real-time pulse on security wait times, and you have a stress-free transit through terminals.
Your Bag, Your Bestie: In an era of strict baggage policies, knowledge is power. Ensure your carry-on fits within the airline's guidelines. This avoids unexpected fees and ensures a smoother boarding process.
Gadget Guardians: Our tech arsenal demands protection and easy access. Invest in top-tier organizers that ensure security checks are nothing more than a fleeting pause.
Lounge in Luxury: With LoungeBuddy, step into a world of tranquillity. Escape the bustle of the boarding area and soak in the calm of premium lounges.
Dress for Success: Adorn yourself in layers. Blending style with comfort ensures you're prepared for the unpredictable climes of the cabin.
Hygiene in the High Skies: Arm yourself with disinfecting wipes. Your seat may have witnessed countless tales; ensure it's spotless before you add yours.
Sustain and Hydrate: A refillable water bottle is both an eco-friendly gesture and a shield against exorbitantly priced airport water. Plus, onboard hydration ensures you disembark looking and feeling refreshed.
The Jet Lag Jigsaw: Let apps like Timeshifter be your guide. Sync your body with new time zones seamlessly, ensuring your adventure begins on the right foot, no matter where you land.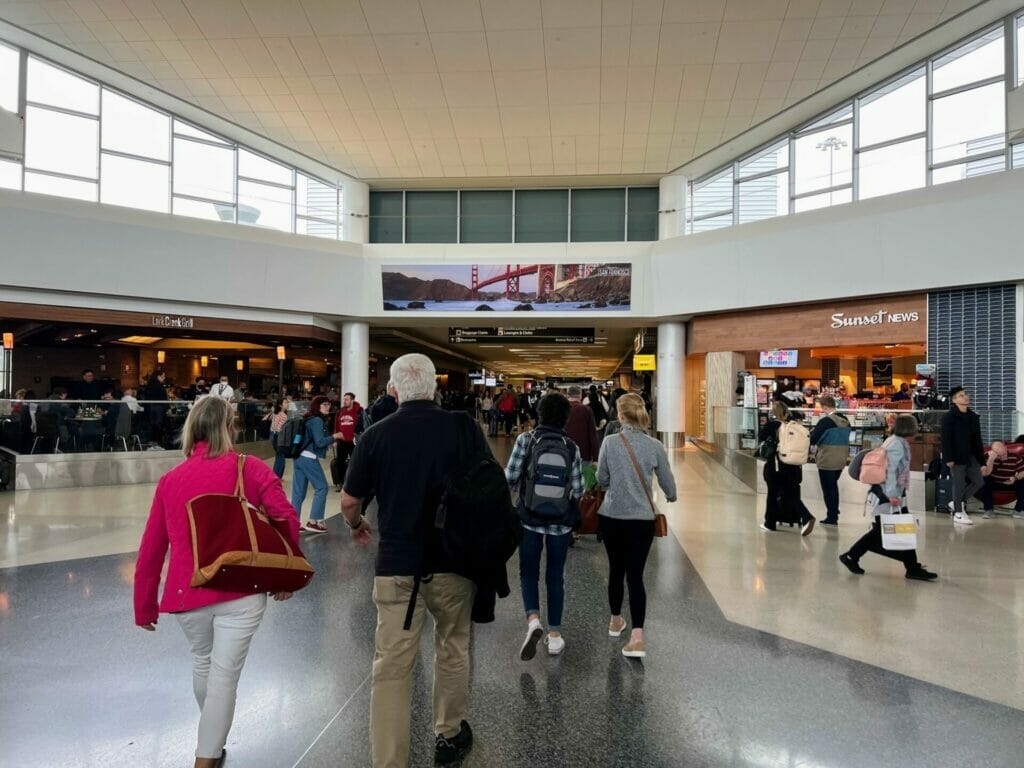 Soaring to New Heights in Travel
In the tapestry of journeys we embark on, each flight becomes more than just a means to an end; it's a chapter, a story, an adventure in its own right. And just like any great story, the details matter. By embracing the insights and strategies shared here, you not only elevate your flight experience but also ensure that every trip becomes a cherished memory. Remember, it's not about the destination, but the journey that leads to it. So, equip yourself with knowledge, prepare for the skies, and let every flight experience become a tale worth telling. Safe travels and blue skies ahead!
You can discover additional tips by checking out this blog post. : 10 Air Travel Tips To Make Your Flight More Enjoyable
Tips to Avoid the Baggage Claim Chaos: Your Ultimate Guide to Carry-On Luggage Sizes!
RECOMMENDED