Airbnb in Bordeaux France
Bordeaux, a name that resonates with history, art, and an unparalleled culinary journey. For many, this city is synonymous with some of the world's most acclaimed wines. But for the discerning traveler, it promises much more. As you navigate the winding streets, each corner whispers tales of the past, beckoning you to become a part of its vibrant tapestry. And what's a better way to immerse in this experience than by living like a local? Thanks to Airbnb, this dream is no longer a distant one. But with myriad choices, how does one pick the ideal abode? Herein lies your compass. Armed with insights straight from Airbnb's datasets, this guide promises to be your trusted companion in selecting the perfect Bordeaux dwelling.
Why Bordeaux? Delving into its Mystique
To many, France is the Eiffel Tower or the romantic streets of Paris. Yet, Bordeaux emerges as an unmissable chapter in the French storybook. Beyond its vineyards, which are vast expanses of green dotted with chateaus, Bordeaux is a UNESCO World Heritage site. Its neoclassical architecture sings songs of yore, while contemporary art installations juxtapose the old with the new. This city is a dance between epochs. Every cobblestone and every bylane has a story. But it's not just about the past; Bordeaux is as much about the now. Contemporary theatres, chic boutiques, and pulsating nightlife make it a modern-day haven. And then there's the wine – the deep reds, the crisp whites, and the allure of wine-tasting sessions in medieval cellars. For the American traveller who's a connoisseur of fine things – art, history, or wine- Bordeaux is not just a destination but an experience.
Navigating Bordeaux's Airbnb Landscape
Bordeaux's Airbnb scene is much like its wine – varied, rich, and catering to every palate and pocket. But understanding it can be the difference between a good vacation and a great one.
Price Dynamics – Where Does Your Budget Take You?
Every traveler, whether on a shoestring budget or on a luxurious spree, seeks value. In Bordeaux, value is not just about cost but about the richness of experience. Staying in « Centre ville » is akin to having the city's pulse at your fingertips. Yes, it might be slightly pricier, but can you really put a price on waking up to the view of Bordeaux's historic squares or being just a walk away from its most iconic sites?
Here are the average prices for Airbnb listings in various neighborhoods of Bordeaux:
Saint-Aubin-de-Médoc: The average price is approximately \$205.70 per night.
Bouliac: The average price is approximately \$198.81 per night.
Toctoucau: The average price is approximately \$198.00 per night.
Le Taillan-Mdoc: The average price is approximately \$190.71 per night.
Magonty: The average price is approximately \$180.53 per night.
On the lower end:
3M-Bourgailh: The average price is approximately \$66.45 per night.
Le Vallon-Les Echoppes: The average price is approximately \$61.41 per night.
La Paillre-Compostelle: The average price is approximately \$58.05 per night.
Saige: The average price is approximately \$44.38 per night.
The bar chart above illustrates the average prices of Airbnb listings in various neighbourhoods of Bordeaux. Here are some insights:
Saint-Aubin-de-Médoc, Bouliac, and Toctoucau are the top three neighborhoods with the highest average listing prices, indicating their potential upscale nature or attractions that elevate the prices.
Saige, La Paillre-Compostelle, and Le Vallon-Les Echoppes emerge as neighborhoods with the lowest average prices, offering more affordable accommodation options.
The visual disparity in average prices between the top and bottom neighborhoods is evident. Such distinctions can be influenced by factors like proximity to key city locations, tourist spots, transportation access, and the overall environment or exclusivity of the neighborhood.
Riding the Popularity Wave – Where's Everyone Going?
There's comfort in numbers, especially in a new city. Knowing where fellow travelers are flocking can be a good indicator. « Centre ville » emerges as a favorite, and it's easy to see why. It's not just about its central location; it's about being in the heart of all action, be it cultural fests, wine festivals, or just the daily hustle-bustle that offers an authentic Bordeaux feel.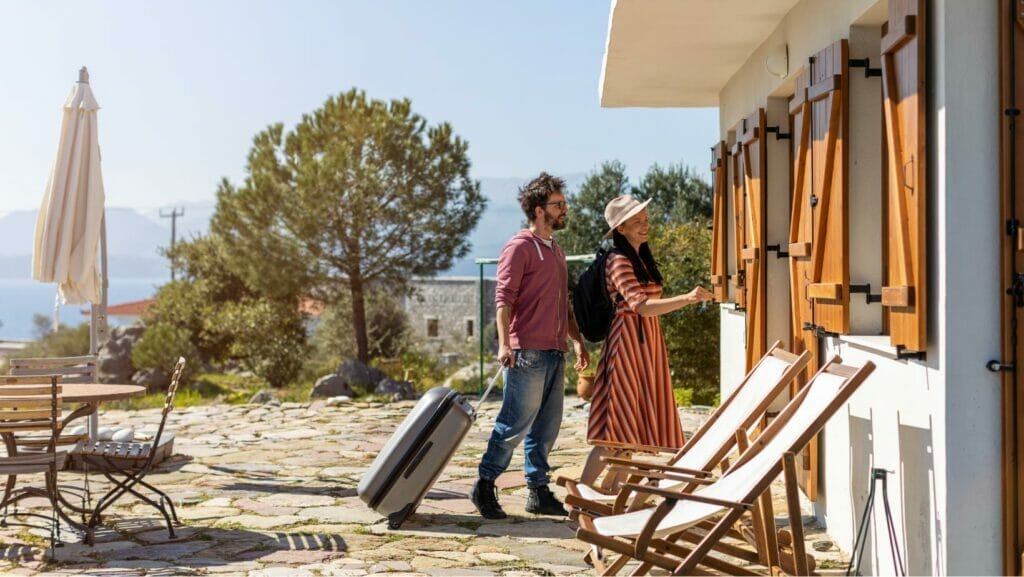 Unmasking Bordeaux's Airbnb Popularity: A Tale Told by Reviews
Diving into Airbnb in Bordeaux France landscape is much like sipping on its wine – there's a story, a history, and an essence waiting to be unravelled. And what better way to understand the city's Airbnb pulse than through reviews? After all, every judgment is a traveller's story, an echo of their experience, a testament to their moments spent in Bordeaux's neighbourhoods.
The Star Attractions: Bordeaux's Review Leaders
Stepping into « Centre ville (Bordeaux) » is akin to entering a grand theater of experiences. With a staggering 65,260 reviews, it's clear that this neighborhood is the leading actor on Bordeaux's Airbnb stage. The allure is palpable – historic streets, bustling cafes, and a proximity to the city's heartbeats.
Not far behind are « Bordeaux Sud » and « Chartrons – Grand Parc – Jardin Public », with 50,573 and 28,768 reviews respectively. These neighborhoods, with their unique charm, have etched memories in the hearts of thousands, making them the second and third most narrated tales in Bordeaux's Airbnb chronicles.
The Unsung Corners: Neighborhoods Awaiting Their Spotlight
Every story has its unsung heroes, and in Bordeaux's tale, neighborhoods like « Saint-Vincent-de-Paul », « 3M-Bourgailh », and « Ambs » play that role. With reviews as few as 3 for Saint-Vincent-de-Paul, these areas might not have the limelight, but they hold untapped potential. They're like the hidden tracks on an album – less discovered but brimming with authenticity.
Highest Number of Reviews:
Centre ville (Bordeaux): 65,260 reviews.
Bordeaux Sud: 50,573 reviews.
Chartrons-Grand Parc-Jardin Public: 28,768 reviews.
Saint Augustin-Tauzin-Alphonse Dupeux: 21,451 reviews.
Talence: 15,830 reviews.
Lowest Number of Reviews:
Saint-Louis-de-Montferrand: 198 reviews.
Ambs: 189 reviews.
3M-Bourgailh: 127 reviews.
Casino: 107 reviews. (We'll exclude this in our visualization, as per your request.)
Saint-Vincent-de-Paul: 3 reviews.
The number of reviews can be a proxy for the popularity or occupancy rate of listings in a neighborhood. A high number of reviews indicates that the neighborhood has a lot of visitors, while a low number suggests the opposite.
The bar chart above illustrates the number of reviews for Airbnb listings in various neighborhoods of Bordeaux. Here are some insights:
Centre ville (Bordeaux) stands out as the most reviewed neighborhood, suggesting it's a popular destination for Airbnb guests. This is expected as city centers typically attract a higher number of tourists due to their proximity to attractions, dining, and entertainment.
Bordeaux Sud and Chartrons – Grand Parc – Jardin Public follow closely, making them the second and third most reviewed neighborhoods respectively.
On the lower end, neighborhoods like Saint-Vincent-de-Paul, 3M-Bourgailh, and Ambs have the fewest reviews, indicating they might be less frequented by tourists or have fewer listings overall.
Decoding The Review Dynamics: What Does It All Mean?
Reviews are more than just feedback; they're indicators and signposts that guide future travellers. A neighbourhood like « Centre ville (Bordeaux) », bursting with reviews, underscores its popularity. For travellers, it's a sign of a vibrant locale teeming with experiences.
Conversely, areas with fewer reviews, like « Saint-Vincent-de-Paul », are invitations for explorers looking for offbeat experiences opportunities.
In essence, Bordeaux, with its tapestry of neighborhoods, promises a plethora of experiences. And as you navigate its streets, let the reviews guide you, for they are the whispers of many a traveler who's treaded the path before you.
Bordeaux's Airbnb Beat: Decoding Anticipated Occupancy Rates
Like all good things, the best Airbnbs in Bordeaux get snapped up quickly. Places with high anticipated occupancy rates are like those popular cafes – everyone wants a table. So, if you have your heart set on a riverside view or a quaint loft in « Centre ville », act swiftly. A Bordeaux gem waits for no one!
For a traveler embarking on a journey, every choice matters. From the sights they want to see, the wines they wish to taste to the neighbourhood they decide to call home during their stay. And when it comes to Airbnb, the anticipated occupancy rate becomes a handy compass, hinting at the popularity and allure of each neighbourhood. Let's journey through Bordeaux's streets, understanding the ebb and flow of its Airbnb occupancy rhythms.
Here are the neighborhoods in Bordeaux with the highest and lowest anticipated Airbnb occupancy rates:
Highest Anticipated Occupancy Rates:
Verthamon: Approximately 75.85% occupancy rate.
Cap de Bos: Approximately 74.52% occupancy rate.
Nansouty – Saint Gens: Approximately 73.86% occupancy rate.
Bruges: Approximately 71.97% occupancy rate.
Bordeaux Maritime: Approximately 71.29% occupancy rate.
Lowest Anticipated Occupancy Rates:
Magonty: Approximately 51.18% occupancy rate.
Sardine: Approximately 51.13% occupancy rate.
Beutre: Approximately 50.72% occupancy rate.
Chemin Long: Approximately 49.82% occupancy rate.
Saint-Vincent-de-Paul: Only about 0.14% occupancy rate, which suggests this might be an outlier or a rarely booked listing.
The anticipated occupancy rate provides insights into how often listings in a particular neighbourhood are expected to be occupied. A higher rate indicates a popular area with high demand, while a lower rate might suggest less demand or an oversupply of listings.
The bar chart above illustrates the anticipated occupancy rates of Airbnb listings across different neighborhoods in Bordeaux. Here are some key insights:
High Demand Areas: Neighborhoods like Verthamon, Cap de Bos, and Nansouty – Saint Gens show the highest anticipated occupancy rates. These areas might have distinct attractions, amenities, or a reputation that makes them particularly popular among guests.
Areas with Lower Demand: On the opposite end, neighborhoods like Chemin Long, Beutre, and Magonty have lower anticipated occupancy rates. This could be due to various factors such as distance from popular attractions, type of listings available, or an oversupply of accommodations.
Outliers: Saint-Vincent-de-Paul stands out with an extremely low anticipated occupancy rate, close to 0%. This could indicate rarely booked listings or could be an anomaly in the data.
The Hotspots: Bordeaux's Airbnb High Demand Areas
Imagine stepping into a neighborhood, and there's a buzz in the air, a vibe that's unmistakable. That's what places like « Verthamon », « Cap de Bos », and « Nansouty – Saint Gens » feel like. With anticipated occupancy rates soaring as high as approximately 75.85% for Verthamon, these are the areas where travelers flock. The reasons? It could be a mix of unique local attractions, the sheer convenience of location, or perhaps the tales of past travelers that lure new ones. For someone looking to be in the heart of all action, to soak in the very essence of Bordeaux, these neighborhoods beckon with open arms.
The Quieter Corners: Bordeaux's Less Frequented Gems
Every city has its hidden nooks, the quieter corners that offer a different kind of charm. In Bordeaux's Airbnb landscape, « Chemin Long », « Beutre », and « Magonty » emerge as such havens. Their anticipated occupancy rates, lingering around the 50% mark, hint at a more tranquil vibe. These might not be the bustling centers, but they hold a promise – of authentic experiences, of moments that aren't necessarily in the limelight but are precious nonetheless. For the traveler seeking solitude or a more local experience away from the touristy hustle, these neighborhoods could be the perfect backdrop to their Bordeaux tale.
Puzzling Pockets: The Curious Case of Saint-Vincent-de-Paul
Then there's « Saint-Vincent-de-Paul » – an enigma in this matrix. With an anticipated occupancy rate of just about 0.14%, it stands out. Is it a neighborhood shrouded in mystery? Or perhaps it's an area with listings that are new, waiting for their first guests? For the adventurous traveler, this might just be an invitation, a call to explore the uncharted and pen their own reviews.
Bordeaux, with its myriad neighbourhoods, offers a spectrum of experiences. And as you, dear traveller, navigate its alleys and boulevards, let the anticipated occupancy rates guide you, helping you find the perfect spot to etch your Bordeaux memories. Safe travels!
Bordeaux's Airbnb Maestros: Hosts Who Make Your Stay Memorable
Every journey has its heroes – those who make an experience special, memorable, and truly unforgettable. In the Airbnb world of Bordeaux, these heroes are the hosts. They open their homes, share slices of Bordeaux's life, and ensure travelers carry back tales filled with warmth. Let's delve deep into the world of Bordeaux's top Airbnb hosts, guided by the voices of thousands who've been their guests.
Based on the total number of reviews received, the top hosts in Bordeaux are:
Georges with 3,184 reviews.
Julie with 3,155 reviews.
Sandra with 3,001 reviews.
L'Intendant Bordelais with 2,964 reviews.
Louis with 2,534 reviews.
Manou with 1,975 reviews.
Alexandre with 1,861 reviews.
Montempô Bordeaux with 1,758 reviews.
Julien with 1,687 reviews.
Olivier with 1,352 reviews.
The number of reviews suggests frequent bookings and potentially high guest satisfaction. Hosts with a large number of reviews have likely been active on the platform for a while and have hosted numerous guests.
The bar chart above showcases the top 10 hosts in Bordeaux based on the total number of reviews they have received.
Observations:
Georges leads the chart, having amassed a significant 3,184 reviews. Such a high count suggests that Georges' listings are frequently booked and that he has been an active host for an extended period.
Julie and Sandra closely follow, each with over 3,000 reviews, indicating their prominence and activity on the platform.
The presence of names like L'Intendant Bordelais and Montempô Bordeaux suggests that both individual hosts and entities or businesses are active and popular in the Bordeaux Airbnb market.
The total number of reviews is a strong indicator of a host's activity and success. Frequent bookings and consistent reviews likely correlate with the quality of service, accommodation standards, and overall guest satisfaction.
The Pioneers: Hosts Who've Mastered the Airbnb Game
Leading the pack is « Georges », with an impressive 3,184 reviews under his belt. Think about it; that's over 3,000 stories, 3,000 memories crafted under his hosting banner. And closely on his heels are « Julie » and « Sandra », each with reviews crossing the 3,000 mark. These figures aren't just numbers; they're a testament to their commitment, the magic they bring to every traveller's journey, and their deep understanding of what a traveller seeks in Bordeaux. They're not just hosts; they're Bordeaux's Airbnb ambassadors.
The Ensemble: Diversity in Hosting
The beauty of Bordeaux's Airbnb scene is in its diversity. While individual names like « Louis », « Manou », and « Alexandre » shine brightly, entities like « L'Intendant Bordelais » and « Montempô Bordeaux » bring a different flavor to the mix. They represent the blend of personal touch and professional standards, offering travelers a range of experiences – from cozy home stays to more structured accommodations.
Reviews – The Echo of a Traveler's Heart
Numbers tell a story, and in the Airbnb universe, reviews are the storytellers. The sheer volume of reviews for these hosts isn't just about frequent bookings; it's about consistently delivering memorable experiences. Each review is a nod to the host's efforts, their ability to add that special touch to a traveler's Bordeaux tale. So, as you plan your Bordeaux sojourn, let these trusted names guide your stay. After all, they come recommended by thousands! Safe travels and happy hosting!
Bordeaux Through the Eyes of Airbnb Guests: Decoding Sentiment Scores
Numbers don't lie, especially when they echo the sentiments of countless travellers who've walked the path you're about to tread.
Bordeaux, a city of history, culture, and unparalleled charm, is a canvas painted with varied experiences. For an Airbnb traveler, the choice of neighborhood is akin to selecting the color palette for their Bordeaux masterpiece. And who better to guide this choice than fellow travelers who've lived the tale? Enter sentiment scores – a reflection of guests' experiences, an echo of their satisfaction, a compass to navigate Bordeaux's Airbnb landscape.
Based on the sentiment analysis of the comments, here are the neighborhoods in Bordeaux with the highest and lowest average sentiment scores:
Highest Sentiment Scores (Most Positive Comments):
Centre ville (Bordeaux) with a score of approximately 0.544.
Chartrons – Grand Parc – Jardin Public with a score of approximately 0.423.
Bordeaux Sud with a score of approximately 0.422.
La Bastide with a score of approximately 0.338.
Nansouty – Saint Gens with a score of approximately 0.319.
Lowest Sentiment Scores (Least Positive or Potentially Negative Comments):
Beaudsert with a score of approximately 0.084.
Bassens with a score of approximately 0.090.
Le Haillan with a score of approximately 0.096.
Saint-Louis-de-Montferrand with a score of approximately 0.096.
Saint-Vincent-de-Paul with a score of 0, which suggests neutral comments or a lack of sufficient data.
The sentiment scores provide insights into guest satisfaction and experience in different neighborhoods. A higher score indicates generally positive feedback from guests, while a lower score might suggest areas of improvement or challenges.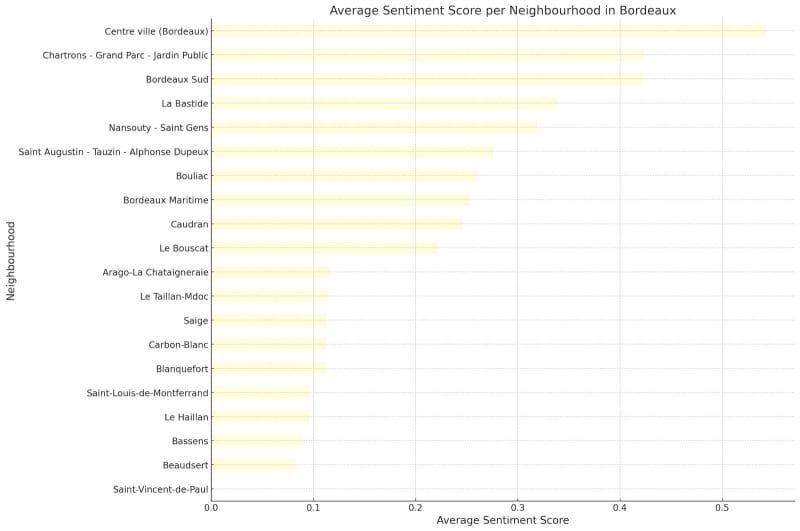 The bar chart above presents the average sentiment scores of Airbnb comments across different neighborhoods in Bordeaux. Here are some key insights:
Centre ville (Bordeaux) leads the list, boasting the highest sentiment score. This suggests that guests generally have a positive experience staying in this neighborhood. Given its central location, it's likely that guests appreciate the convenience and accessibility it offers.
Chartrons – Grand Parc – Jardin Public and Bordeaux Sud also showcase high sentiment scores, indicating guest satisfaction in these areas.
On the lower spectrum, neighborhoods like Beaudsert, Bassens, and Le Haillan have lesser sentiment scores. While these scores are still on the positive side, they are comparatively lower, suggesting that there might be areas of improvement or specific challenges faced by guests in these neighborhoods.
Saint-Vincent-de-Paul has a neutral sentiment score, which could be due to limited data or predominantly neutral feedback from guests.
Sentiment scores offer a valuable lens into guest satisfaction. Positive feedback can highlight the strengths and attractions of a neighbourhood, while constructive or negative feedback can pinpoint areas needing attention. For hosts, these insights can guide improvements in their service. Understanding the sentiment can help potential guests make informed accommodation choices.
Bordeaux's Crown Jewels: Neighborhoods that Win Hearts
Topping the charts is none other than « Centre ville (Bordeaux) » with a sentiment score of approximately 0.544. For the uninitiated, this score is a loud applause, a standing ovation from guests who've called this neighborhood home. The reasons? Perhaps it's the allure of being in the heart of Bordeaux, or maybe it's the blend of history, accessibility, and modern-day conveniences that this central neighborhood offers.
« Chartrons – Grand Parc – Jardin Public » and « Bordeaux Sud » are not far behind. With scores hovering around the 0.4 mark, these neighborhoods are like the charismatic supporting actors in a blockbuster movie – essential, impactful, and leaving a mark on every guest.
Areas Awaiting Their Encore: Where Bordeaux Can Shine Even Brighter
While Bordeaux is a symphony of delightful experiences, some notes await perfection. Neighborhoods like « Beaudsert », « Bassens », and « Le Haillan » fall into this bracket. Their sentiment scores, though positive, are on the lower side, hinting at areas of enhancement, opportunities for hosts to elevate the guest experience.
The neutral sentiment score of « Saint-Vincent-de-Paul » is intriguing. It's like a blank canvas, perhaps indicative of limited feedback or areas yet to be fully discovered and narrated by guests. Neighbourhoods are like the verses of a song – each with its melody, rhythm, and story. Sentiment scores are the chorus, the recurring theme telling travellers where the song soars and awaits its crescendo. So, as you plan your Bordeaux escapade, let these scores guide your steps, ensuring your Bordeaux ballad is nothing short of magical. Safe travels!
The overall perception of Airbnb rentals in Bordeaux is as follows:
Predominantly Neutral: A vast majority (approximately 80.20%) of the comments are neutral. This large slice of neutrality suggests that most guests found their stays to be as expected, with no particular highlights or issues prompting them to express strong sentiments.
Positive Reception: The significant green portion, which constitutes approximately 19.68%, indicates that a notable fraction of guests had a positive experience. This is a promising sign for Airbnb rentals in Bordeaux, showcasing that a majority of the guests who expressed a sentiment had a favorable impression.
Minimal Negative Feedback: The tiny red sliver, representing just about 0.12% of the comments, shows that negative feedback is rare. This is reassuring for potential guests and hosts, indicating that negative experiences or significant issues with Airbnb rentals in Bordeaux are infrequent.
In conclusion, based on guest comments, the overall perception of Airbnb rentals in Bordeaux is mainly positive. While many comments are neutral, indicating general satisfaction, the proportion of positive feedback dramatically outweighs the negative. This suggests that Bordeaux's Airbnb community offers a satisfactory if not commendable, guest experience.
Mapping Your Bordeaux Adventure
Bordeaux isn't just about places; it's about journeys. And every journey begins with a map.
Airbnb in Bordeaux France – From Riverside Retreats to Cultural Hubs
Bordeaux's map is a treasure trove. Staying by the river promises serene mornings while being in the city center invites impromptu cultural immersions. The geographical distribution of Airbnb listings tells a tale.
Imagine Bordeaux as a big puzzle. The center piece, where most people want to be, is packed with tiny AirBnb houses because it's close to all the fun stuff. It's like the main stage at a carnival! Then, there's this long blue ribbon (the Garonne River) that runs through the puzzle. Lots of houses are placed near this ribbon because people love watching the water and doing fun activities by the river.
Now, not everyone wants to be in the crowded center or by the river, so there are houses spread out in the quieter corners of the puzzle too. These are great for people who want a peaceful stay or are there for some special events.
And you know the edge pieces that help you start a puzzle? Those are like the light gray areas on our map, showing where one neighborhood ends and another begins. It helps people see which part of the city they're in!
High Density in the City Center: The majority of listings are concentrated in the city center, known as Centre ville (Bordeaux). This dense clustering is expected, given that city centers worldwide are popular among tourists for their convenience, proximity to attractions, and vibrant atmosphere.
Spread along the River: There's a noticeable spread of listings along the Garonne River, which flows through Bordeaux. Proximity to the river likely offers scenic views and easy access to riverfront activities, making it an attractive location for listings.
Peripheral Distribution: Apart from the central concentration, there are several listings scattered across Bordeaux's peripheral regions. These could cater to travelers seeking quieter, residential experiences or those visiting specific attractions or events outside the bustling city center.
Neighbourhood Boundaries: The light gray areas represent the different neighbourhoods of Bordeaux, providing a clear demarcation. This helps in understanding the distribution within specific neighbourhoods and can be beneficial for evaluating the saturation in various areas.
Conclusion
Bordeaux, often dubbed the « Sleeping Beauty » of France, has woken up to the rhythms of the modern world while keeping its historical heartbeats intact. As we've journeyed through this guide, one thing becomes abundantly clear – Bordeaux isn't just a travel destination; it's a sentiment, a vintage tale of culture, and a modern story of hospitality, all bottled up into one mesmerizing experience.
Airbnb, in its unique essence, has not just been an accommodation facilitator in Bordeaux but a bridge – a bridge that connects travelers to authentic Bordeaux experiences. From the rustic charm of stone-walled apartments to the contemporary sleekness of riverside condos, Bordeaux's Airbnb landscape captures the city's diverse spirit.
Our deep dive into the data from Airbnb's datasets has illuminated a few key takeaways. Bordeaux, with its rich tapestry of neighborhoods, offers something for everyone. Whether you're a budget traveler seeking value in « Bordeaux Sud » or someone looking to splurge in the heart of « Centre ville, » the city's Airbnb offerings ensure you're never far from its pulse. Moreover, the overwhelmingly positive sentiments of past travelers stand testament to Bordeaux's unwavering promise of hospitality.
As wine is to Bordeaux, so is the experience of living like a local to a traveler. It's not just about the taste but the aftertaste, the memories that linger long after the trip concludes. So, as you ponder over maps, read reviews, or glance at pictures of potential Airbnbs, remember that in Bordeaux, every stay tells a story, every corner holds a secret, and every moment is a potential memory.
To the discerning traveler reading this – Bordeaux beckons. Its vineyards await your footprints, its streets hum with anticipation, and in one of its many Airbnbs, a home away from home awaits. So, pack that bag, uncork your wanderlust, and let Bordeaux pour you a glass of unforgettable experiences. Cheers to your next adventure in the heart of France!
Official Bordeaux Tourism Website: bordeaux-tourism.co.uk
Bordeaux Map:
Afficher une carte plus grande