Traveling by plane can be one of the most stressful experiences you can have. It doesn't matter if you're flying for business or pleasure, the process can be difficult. The good news is that there are airport hacks you can do to make your airport travel smoother and stress-free.
Don't miss this blog post! It's full of great tips to make your next flight smoother. Check it out now!
1. Airport Tips – Check the airport website
The first thing that you need to do is to check if your airport has a website. You can use this website to find out about the airport's schedule, airport maps and other important information. You can also use this website to find out about the airport's facilities and services.
2. Arrive at the airport early
This is so important, especially if you're flying out of a large airport. Give yourself plenty of time, at least 3 hours, to get through security, grab a coffee, and find your gate. If you plan ahead and pack properly, the screening process at the airport will be easier for you. Know what you can pack in your carry-on and checked baggage before arriving at the airport.
3. A quick and easy experience going through TSA checkpoint screening
If you want to make the screening process at the airport easier for yourself, plan ahead and pack appropriately. Familiarize yourself with what you are allowed to bring in your, handbag, carry-on, and checked baggage. The security officer, TSA, at the airport will ask you to remove your mask for a moment so they can verify who are.
4. Are You Eligible for TSA Pre-Check ?
TSA Pre-Check is an excellent program for travellers who want to get through airport security faster. With PreCheck, you don't have to remove your shoes and belt; you can leave liquids and laptops in your carry-on bag. If you're 75 or older, you can leave your shoes and light jacket on during screening, even without PreCheck.
TSA PreCheck is available at over 200 airports in the U.S. with 80 participating airlines. The program is for domestic use only and there are no international airport locations.
5. Useful Tips and Tricks – Bring an empty water bottle with you
Bring a reusable water bottle This is a great tip because you can fill it up after you go through security, and it will save you money on overpriced water bottles in the airport. Don't buy things at the airport: Unless you're buying a snack or a drink, don't waste your money on things like souvenirs. You can find these items for cheaper at a gift shop at your destination.
6. Don't check your bag
If you can avoid checking a bag. You'll save time, money, and a lot of headaches. Plus, you'll avoid the risk of lost luggage. If you do have to check a bag, make sure it's not too big. Most airlines charge extra for bags that don't fit in the overhead bin.
7. Roll your clothes
Rolling your clothes will help you fit more in your bag. Plus, it will prevent wrinkles. Pack light: The lighter your bag, the easier it is to carry. A small backpack or daypack will come in handy for carrying around items like sunscreen, water bottles, and snacks while you're exploring during the day. Use packing cubes: Packing cubes help keep your clothes organized and tidy in your bag.
8. Don't overpack your luggage
This is a bad idea for many reasons. First, you'll have to pay for an extra bag, and second, you'll have to carry all that stuff around. Don't bring anything you don't need. This is a great rule for travel in general, but especially when it comes to packing light. If you don't think you'll use it, don't bring it! In carry-on Include items like a neck pillow, Smartphone and headphones. Bring anything you might need to keep yourself entertained and comfortable while waiting for your flight.
9. Get travel insurance
This is a must if you're going on a long trip. You never know what could happen, and you don't want to be stuck without insurance.<mark> If you're going on a long trip, travel insurance is a must. You never know what could happen, and you don't want to be stuck without insurance. Travel insurance will protect you in case of an emergency, and it's always better to be safe than sorry.
10. When you travel on an airplane, make sure to wear comfortable clothing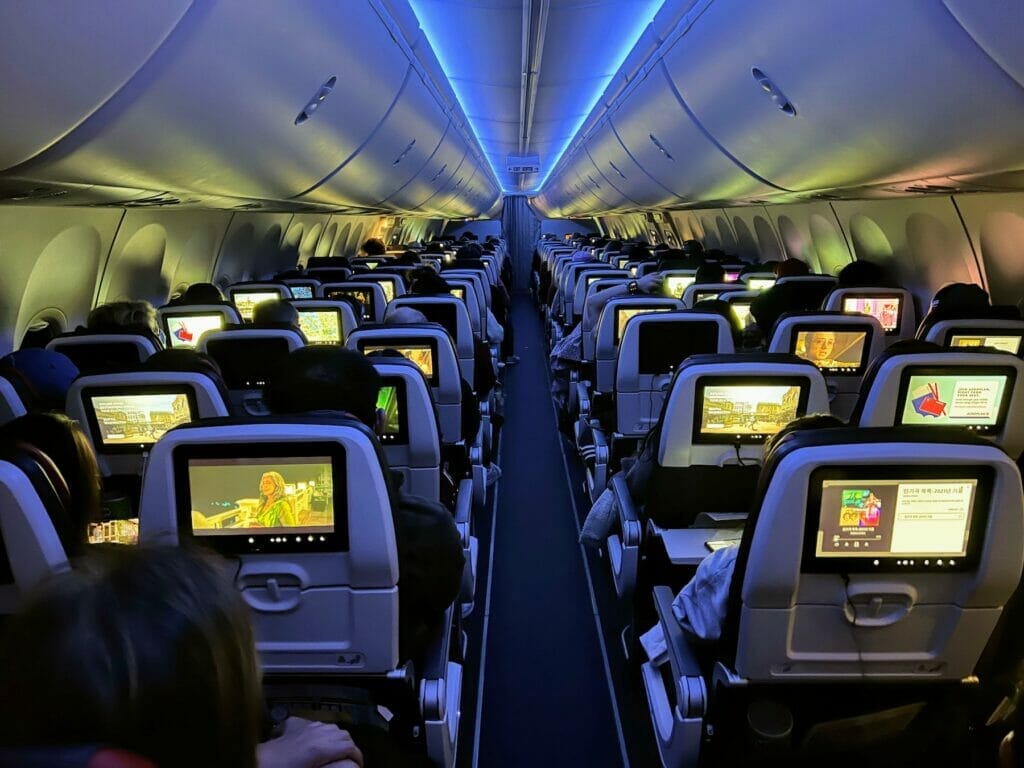 When you travel on an airplane, make sure to wear comfortable clothing. This will help you relax and enjoy your flight. Loose fitting clothes made from natural fabrics are ideal for long flights. You may also want to bring a scarf or shawl to keep you warm during the flight.
11. Keep your important documents handy!
Make sure you have your passport, itinerary, boarding pass, hotel & Airbnb reservation. Your documents are your key to a hassle-free travel.
12. It's important to stay hydrated, so make sure you drink plenty of water before, during, and after your flight
Drink about eight ounces of water for every hour you're in the air. If you're flying coach, make sure to ask for a cup of water when the beverage cart comes by. You can also bring your own water bottle and fill it up after going through security.
Don't drink alcohol or caffeine on the plane You might be tempted to have a cocktail or coffee on the plane, but alcohol and caffeine are diuretics that can cause dehydration. Stick with plain old water to stay hydrated during your flight.
Avoid salty foods before your flight Eating salty foods before your flight can make you feel bloated and uncomfortable during your trip. Try to avoid eating salty snacks like pretzels and chips before getting on the plane. Instead, eat healthy snacks like fruits and vegetables that won't make you feel bloated during your flight.
13. Walking around during the flight is very important
During the flight you have to walk around. Get up and move around every few hours Sitting in one position for too long can cause blood clots, so it's important to get up and move around every few hours.
14. On the plane, wear slip-on shoes
On the plane, wear slip-on shoes or shoes that are easy to take off and put on. You will be asked to remove your shoes at the security checkpoint, and you don't want to hold up the line fumbling with laces. You will be sitting in a small space for a long time, so you might as well be comfortable.
Best airport Tips
In conclusion, try to remain calm and remember that everyone is just trying to get to their destination safely. We're all going through this together! Have a great trip.
RECOMMENDED