San Francisco is a city that is full of culture and history. It is one of the most popular tourist destinations in the United States. There are so many places to visit in San Francisco that it can be hard to know where to start! This blog post will discuss the top ten places you should visit if you are a tourist in San Francisco. This blog post will discuss the top ten places you should visit if you are a tourist in San Francisco.
1- Golden Gate Bridge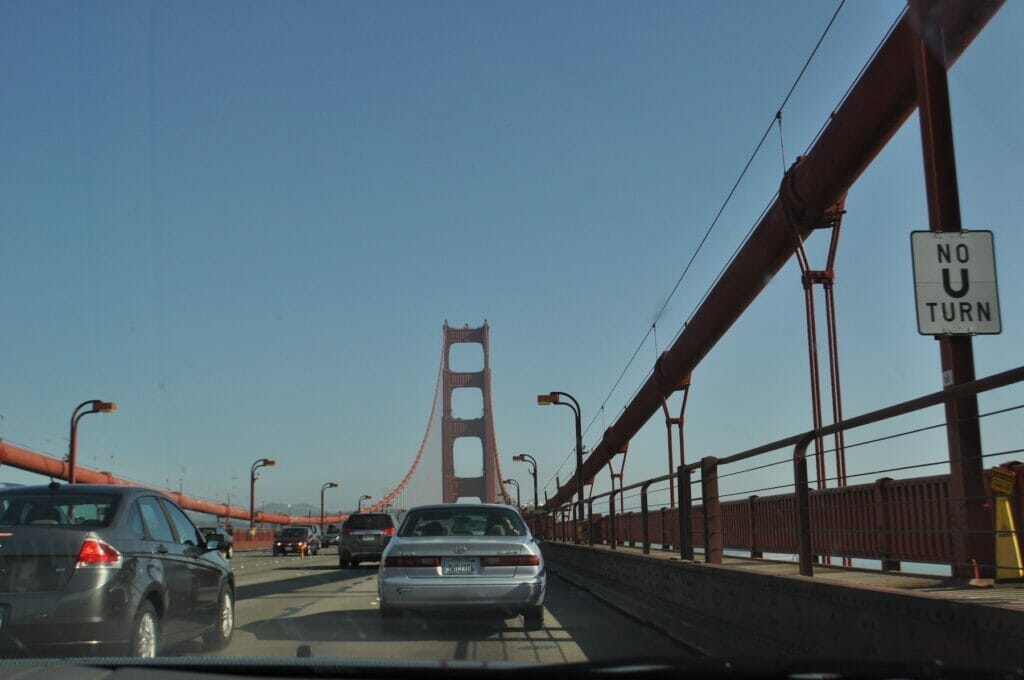 Number one on the list is the Golden Gate Bridge. This bridge is an icon of the San Francisco bay area and is one of the most popular tourist destinations in the city. It spans over two miles and offers scenic views of San Francisco Bay, the Pacific, and the surrounding area.
The Golden Gate Bridge is number one on America's favorite bridges list. The bridge has been featured in many movies and television shows. The bridge was completed in 1937 and is 8,981 feet long.
2- The must-see destination is Alcatraz Island
Alcatraz Island is number two on the list. This island was once a prison but is now a popular tourist destination. Visitors can take tours of the prison, which offers insight into the lives of the once incarcerated prisoners. The island is also home to San Francisco's oldest operating lighthouse. The lighthouse was built in 1858 and is still in use today.. The lighthouse is located on the island's east side and offers stunning views of San Francisco Bay.
3- San Francisco's Chinatown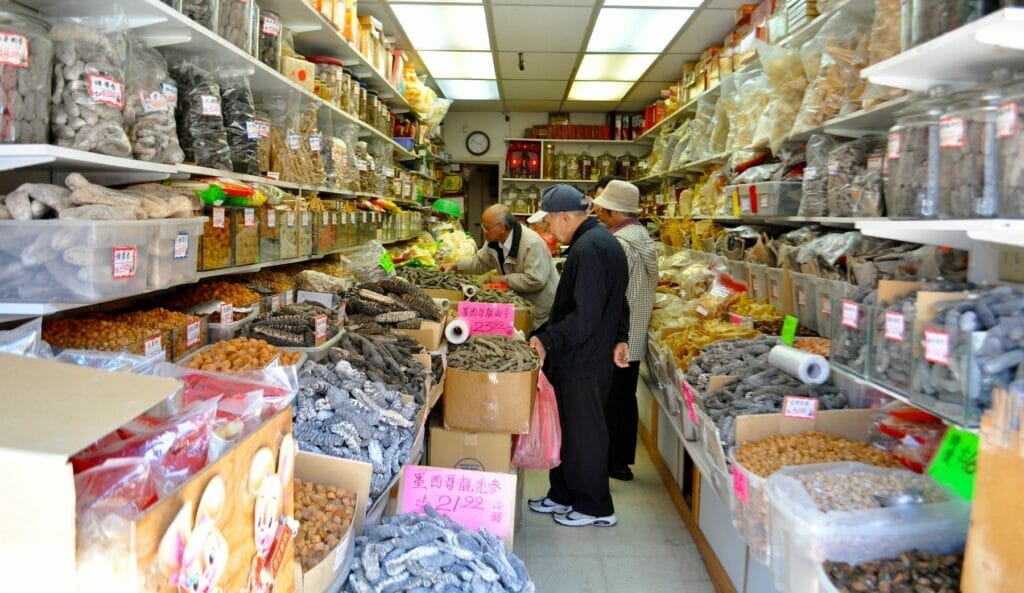 If you want a different kind of experience, San Francisco's Chinatown is a great place to visit. This neighborhood is full of Chinese culture and is one of the largest Chinatowns in the United States. This neighborhood is full of shops and restaurants and great places to find souvenirs. You can also take tours of the area to learn more about what it's like to live in Chinatown.
4- Fisherman's Wharf
No trip to San Francisco would be complete without a visit to Fisherman's Wharf. This district is home to various shops, restaurants, and attractions. The most famous attraction in Fisherman's Wharf is Pier 39. This pier is home to a colony of sea lions that can be seen basking in the sun or swimming in the bay. Visitors can also take boat tours from here. Other popular attractions in Fisherman's Wharf include Ghirardelli Square and the Hyde Street Cable Car turnaround.
5- Twin Peaks
There are many things to do in San Francisco, but if you want the best views of this beautiful city, head up to Twin Peaks. These famous grassy pounds rise 922 feet from ground level, making them second only to Mount Davidson as the highest points within the town (and worth seeing)! From their perch atop these steep slopes, visitors can view multiple landmarks, including The Bay Bridge and downtown skyscrapers which make for stunning photo opportunities no matter what time or season one visits! Make sure to bring cozy clothes, though- a recent visitor said it got windier than anywhere else on earth below sea level, where temperatures may vary quite significantly.
Also, the Twin Peaks are an excellent choice if you're looking for a great hiking spot. They have been open from 5 am to midnight and offer free (albeit limited) parking at their top! The Castro Street station is nearby Muni Metro stop with buses picking up passengers along Market St., but if that's not available, there' are also taxis or Uber ride services that can get one where they need to go to complete their journey safely.
6- Union Square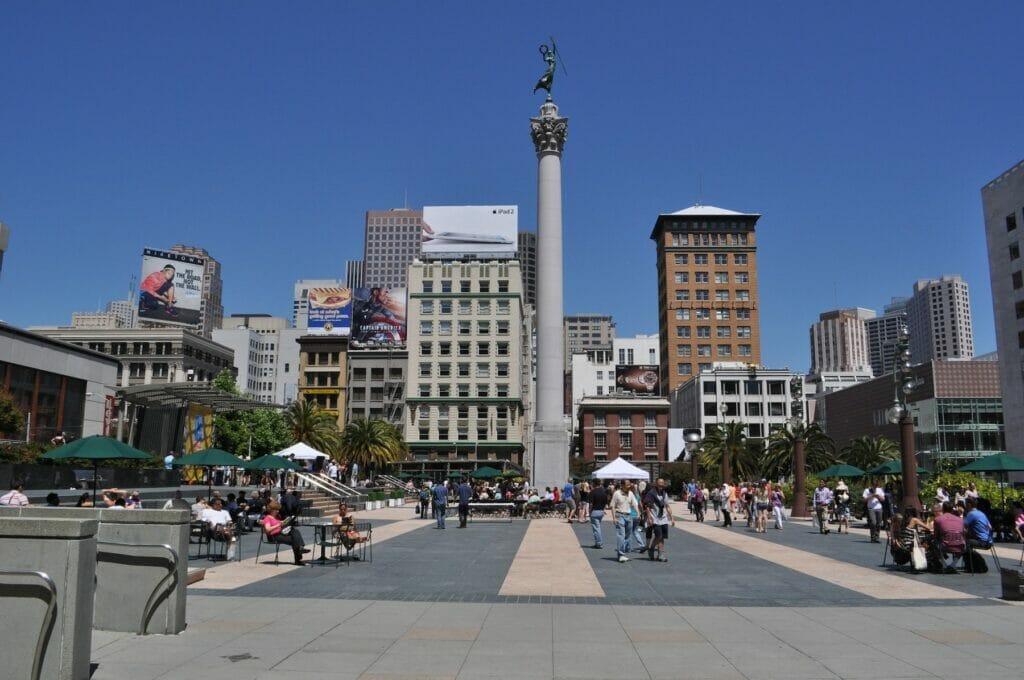 Union Square is an incredible place to visit in the heart of downtown San Francisco. The square sits below high-rise buildings and has a central monument, which people can sit around while enjoying their surroundings without any risk from traffic or other dangers that may come along its busy streets. There are also plenty more areas throughout this famous spot where you'll find artwork!
Union Square is a popular destination for shoppers from all over the city. The square has plenty to offer, with shops lining each side and Neiman Marcus right off of it in case you want something fancy or just need some retail therapy after spending too much time exploring this beautiful town! If there's one thing everyone agrees on when they visit our lovely little urban jungle, though – especially new visitors who might not know how complicated things can get during rush hour here-it'd be that driving through the Union Sq area while trying either park your car underneath
7- The Castro
The Castro neighborhood in San Francisco is considered by many to be the gay capital of America, and it has a storied history that dates back before even Harvey Milk. The area was home to many influential people such as him – California's first openly gay public official with an impressive resume, including helping put our city at the forefront of LGBTQ rights movements across this country through tireless work on behalf of his fellow citizens who are also members of this community.
The Castro has since become one of San Francisco's most beloved and popular tourist destinations, especially for those looking to learn more about the city's unique culture and history. The area is home to many shops, bars, and restaurants that reflect its unique character. It is also one of the few places in San Francisco where you can find rainbow-painted crosswalks, which have become an iconic symbol of the neighborhood!
If you're looking for a place to stay in San Francisco close to all the action, look no further than The Castro. This neighborhood has everything you could possibly want and more.
8- Lombard Street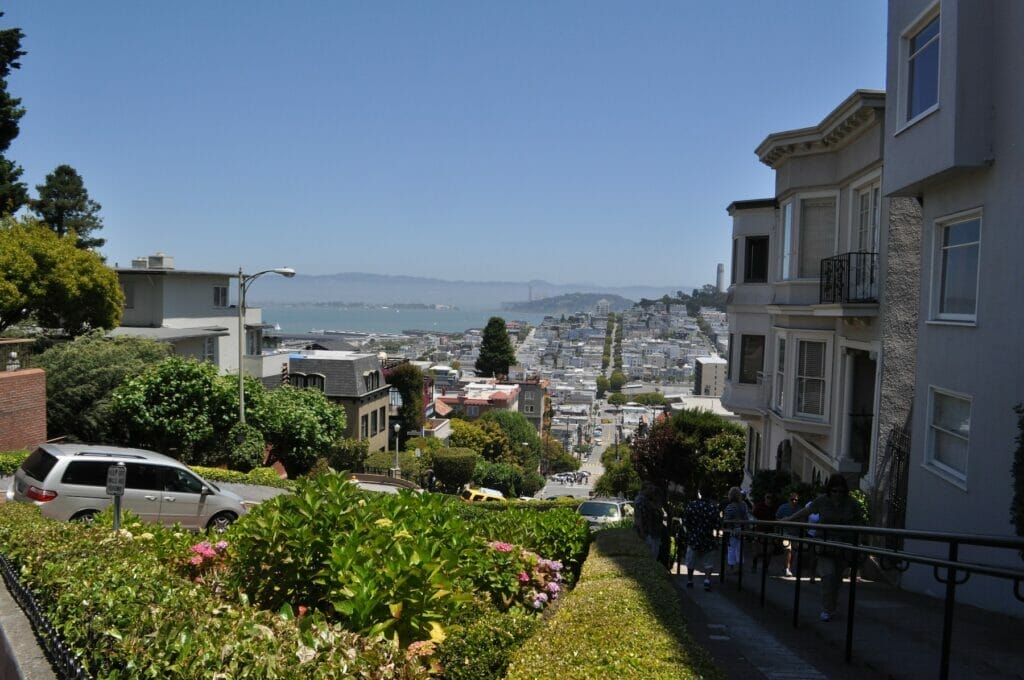 The most crooked street in San Francisco, Lombard Street, is a must-see for any traveler who appreciates scenic views and historic architecture. Victorian mansions line the road while beautiful flowers fill between its switchbacks – making this an exceptionally picturesque stretch of road that runs West from east to west across town (or vice versa). Those looking forward can enjoy walking in each direction or opting instead to take their cars, but if you have time left after sightseeing throughout.
The cable car ride to see the view of Hyde and Lombard streets is an exciting way of experiencing San Francisco. As you look down from your elevated position, cars queue up as they wait for their turn at this quick drive downhill! Free entry right next door neighbor Fisherman's Wharf makes it easy accessible without having too far wander around town or take public transportation while visiting friends.
9- Ferry Building Marketplace
Visitors to the Ferry Building Marketplace were impressed by how many great food options they had available. The market has a variety of stalls that sell everything from seafood and burgers all the way up to Japanese delicacies like edamame beans or freshly made teriyaki sauce! Visitors loved stopping at these small restaurants as well-known San Francisco landmarks while traveling around town – there's no need for portable cuisine when you can enjoy some local flavor right here within walking distance from Union Square.
The Ferry Building Marketplace is one of the most popular destinations in San Francisco. It's easy to get there from anywhere because it has a BART/Muni station and several bus lines that go nearby, not to mention parking lots nearby! When you first enter this marketplace, feel free to explore all that they have for your satisfaction-from their many restaurants with different menus available every day, including ones dedicated only towards organic or local food choices; shops containing anything imaginable under heaven – whether it clothes designed exclusively just for women by other female entrepreneurs who embody what we love about our own culture while simultaneously pushing boundaries beyond recognition…to even more.
10- San Francisco Museum of Modern Art
The San Francisco Museum of Modern Art is one of the city's best places to see modern art. The museum has an extensive collection with something interesting in nearly every room, from Picasso's Girl With A Pearl Earring (1907) or Diego Rivera's Blue Horses(1942). The museum also houses the Fisher Collection, which features international modern artists like Henri Matisse and Cézanne. If you're looking for some new art to take home with you, the San Francisco Museum of Modern Art also has a great gift shop.
These are just a few of San Francisco's must-see attractions for tourists. If you're planning a trip to San Francisco, be sure to add these destinations to your list! You won't be disappointed. Thanks for reading!
Hey! I hope you read our blog post about Miami and Los Angeles
Official San Franciso Tourism Website: visitcalifornia.com/places-to-visit/san-francisco
San Francisco Tourist Map
Afficher une carte plus grande