There are so many fantastic places to visit in Los Angeles that it can be hard to decide which tourist attraction you should visit first. However, some locations stand out more than others. Cities such as New York and London have their own special magic and appeal, but Los Angeles is a city like no other. Its unique environment, history, and culture give it a charm that sets it apart from every other city. If you're thinking about visiting here soon, here are the top ten places to visit in Los Angeles:
1. Universal Studios Hollywood
You can't visit Los Angeles without visiting Universal Studios Hollywood. The world-famous studio is the mecca of all things Hollywood. Some tours take you behind the scenes and show you where some of the biggest films and TV shows were created. They're a must-see if you're a fan of film or TV. Universal Studios is also home to some of the most famous attractions in Los Angeles. There's the water park, the Wizarding World of Harry Potter, the Studio Tour, and the iconic Jurassic Park river adventure.
2. Paramount Studio Tour
Paramount Studios, located on Gower Street in Hollywood, California, is the oldest continuously operating film studio in the United States.
The studio has been a major player in the film industry since its founding in 1912, and has produced some of the most iconic films in American cinema. The studio is home to many famous films, including The Godfather, Forrest Gump, and Mission: Impossible III. The Paramount Studio Tour is a great way to learn about the history of Hollywood and see the actual sets where some of your favorite films were shot.
The tour takes you through the studio's 65 acres of prime real estate and gives you a behind-the-scenes look at the filming of some of Hollywood's most popular movies. The studio tour is top-rated and often sells out, so book your tickets in advance.
3. Venice Beach is a must-see attraction
Venice Beach is one of the most popular tourist destinations in Los Angeles, and for a good reason. The beach has a rich history dating back to the early 20th century when it was founded as a seaside resort town.
Today, it's known for its artists, skateboarders, and a general sense of creative freedom. Venice Beach is also famous for its eccentricities. It's where you can express yourself through art or sports, or just relax by the water.
You'll find an unusual mix of people and things here, from fortune tellers to colorful characters like the Legend of Bad Boy and the man with the bullhorn. There's also a great boardwalk area and shops where you can buy gifts to bring home to friends and family.
So whether you're looking for a place to soak up some sun or you want to experience a unique slice of Los Angeles culture, Venice Beach is definitely worth a visit.
4. Griffith Observatory is a great tourist attraction in Los Angeles.
The Griffith Observatory is one of the most popular tourist attractions in Los Angeles. Located in the Hollywood Hills, the Observatory offers stunning views of the city. Visitors can also take advantage of the free public tours and planetarium shows.
The Observatory was built in 1935 and is named after Colonel Griffith J. Griffith. Colonel Griffith was a significant donor to the city of Los Angeles and helped to create many of the city's parks. The Observatory is one of the most popular attractions in Griffith Park.
The Observatory is open every day from 10am to 10pm. Admission is free, but there is a charge for the planetarium shows. The Observatory is a great place to learn about the history of Los Angeles and the starry night sky. While visiting the Observatory, you could also take a walk in the beautiful Griffith Park.
4. The Hollywood sign
You can't visit Los Angeles without heading to the Hollywood sign. It's one of the best attractions in Los Angeles. This iconic landmark is featured in many famous films and TV shows. The sign is also renowned for the « Hollywood » sign in white letters that were put up in the 1930s. The sign has been restored over the years, and access is strictly controlled due to its immense popularity. You can visit the sign during special open-hour events or on a guided tour. The sign is lit in various colors and patterns during special occasions, such as New Year's Eve. It's a fantastic sight to behold and not one you can see daily.
5. Rodeo Drive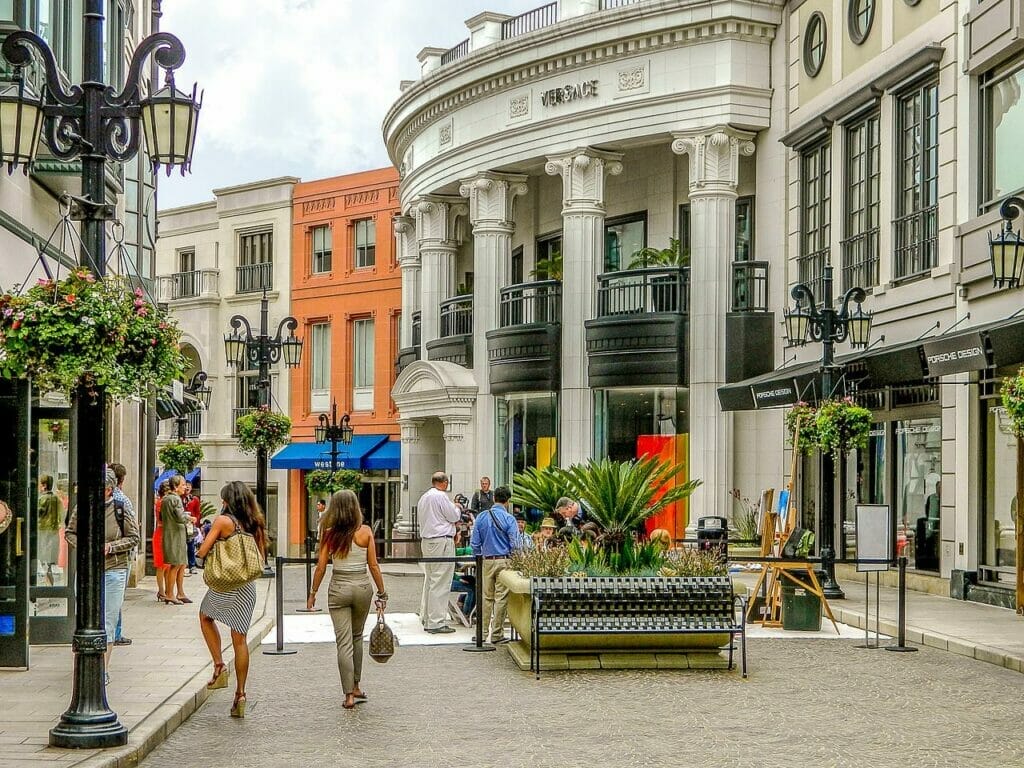 Rodeo Drive is where to find designer stores' crème de la crème. If you like to shop and see where the rich and famous spend their money, this is the place to go. It's one of the most exclusive shopping destinations in the world. You'll find all the best fashion brands here, including Hermes, Gucci, and Chanel. You'll also see a lot of fancy cars and celebrities while you're here, which makes the journey even more exciting. Visiting Rodeo Drive is expensive, but you can visit during a special open-hours event. During this time, you'll be able to walk down the famous shopping street.
6. Santa Monica Pier
The Santa Monica Pier has become an iconic landmark for the city of Santa Monica. It's a large giant sculpture of a pear that sits on a large rock beside the ocean. You can go to the nearby pier and boardwalk area or walk down the beach and see the sun setting in the distance. The Pier is a great place to visit any time of year, but it's lovely during the winter when the sky is clear, and there are no tourists. Visiting the Pier is a great way to spend a day in Southern California.
7. The Getty Center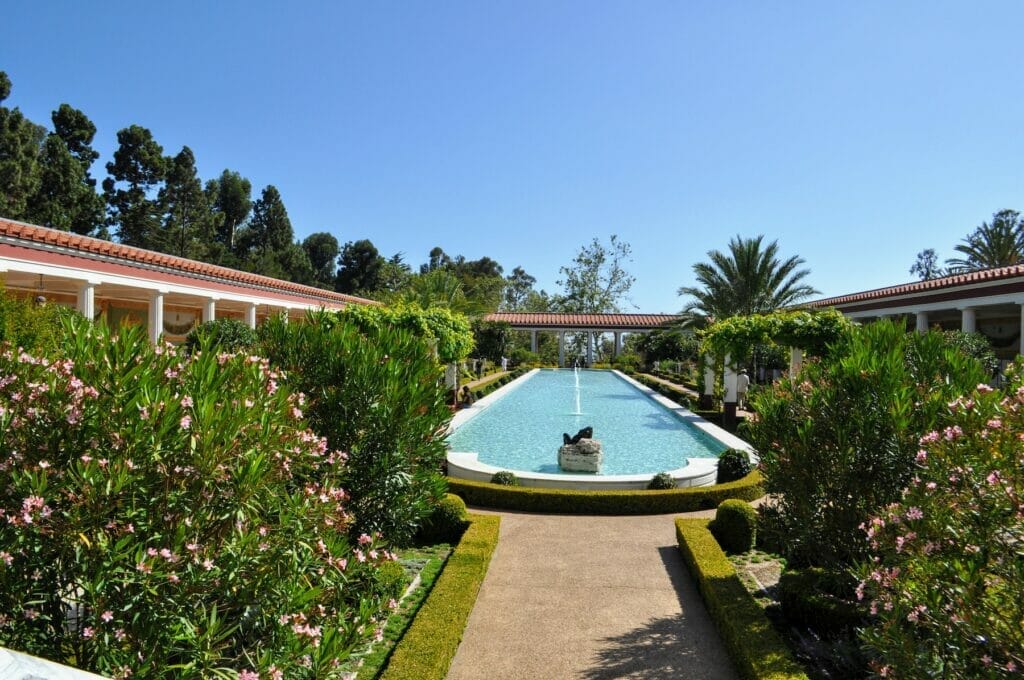 The Getty Center is one of the most unique places to visit in Los Angeles. It's a museum that explores art and culture from the Western world. You'll find many iconic paintings and sculptures here, including Van Gogh's and Georgia O'Keeffe's works.
Visiting the Getty Center is a great way to explore art in a relaxed and beautiful environment. You can spend hours exploring the exhibitions and taking in the incredible architecture and views.
The Getty Center is open every day and has many affordable ticket options. There are also special deals and offers throughout the year. The Getty Center also hosts various exhibitions and events throughout the year, so there's always something new and exciting to see.
8. Drive along PCH (Pacific Coast Highway)
There's no better way to see a city than by car. This is the best way to explore the outdoor areas of Los Angeles. The famous and iconic Pacific Coast Highway (or PCH, for short) is a long road that runs along the coast and passes some of the best places to visit in Los Angeles. Driving along the PCH is a great way to explore the beautiful outdoors of Southern California. You'll pass through Malibu, a beach town famous for its celebrity residents, like Tom Cruise and Oprah. You'll also pass the Santa Monica Pier and the Santa Monica Mountains. The PCH is open every day, but it's busiest on weekends and during the summer. It's best to visit during the week to avoid the crowds.
9. Hollywood Walk of Fame
The Walk of Fame is one of the most popular tourist attractions in Los Angeles, so expect big crowds. You don't have to pay to visit the Walk of Fame, which runs fifteen blocks along Hollywood Boulevard (between N La Brea Avenue and N Gower Street). This busy street is home to restaurants, shops, vintage movie theatres, exciting museums, and celebrity look-alikes with uncanny resemblances, among other things.
Don't forget to stop by the Dolby Theatre on Hollywood Boulevard, where the Oscars happen yearly!
10. Best Beaches in Los Angeles
The best beaches in Los Angeles offer something for everyone. From the world-famous Venice Beach to the secluded Paradise Cove Beach, there is a beach for every type of traveler.
Venice Beach is a must-see for any tourist visiting Los Angeles. The long white sandy beaches, pier, and Annenberg Community Beach House make it a popular spot for tourists and locals alike. The mile-and-a-half of silky sands and the lively Venice Beach Boardwalk is not to be missed. Santa Monica is another iconic Los Angeles beach.
Paradise Cove Beach is an excellent option for those looking for a more secluded beach experience. Tucked beneath the cliffs of Malibu, this tiny beach is mainly under the auspices of the Paradise Cove Beach Café. However, you can access the beach for free if you want to swim or surf.
No matter what beach days you are looking for, Los Angeles has a beach for you. So, pack your swimsuit and sunscreen and head to one of these fantastic beaches today!
Final Words
When it comes to the top cities in the world, Los Angeles has the potential to rank high on that list. Whether you want to hit the beach, explore the town, or catch a show, there are plenty of ways to spend your time here. So, if you get the chance to visit, be sure not to miss out on any of these top 10 places to visit in Los Angeles. These places are unique and have their own special magic and appeal. With so many amazing sights and activities to see, you're guaranteed to have a trip to remember.
Los Angeles Tourism Board
Tourist Map of Los Angeles
Afficher une carte plus grande